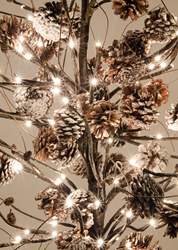 Illuminated decor is the latest trend in home design and the Oak Valley Store now has the most extensive collection available online.
Toronto, Ontario (PRWEB) January 27, 2015
Illuminated home and garden accents are the latest trend in home decor. Whether decorating for a special celebration or adding an accent to home décor, the Oak Valley Collection has something for every style and occasion.
The exquisite Oak Valley collection of Illuminated Floral Lights provide endless options to subtly illuminate a home year round, or set the ambiance and decorate for a party, wedding or special occasion. Select from an array of illuminated garlands, wreathes and LED trees including stunning bonsai and birch trees of various heights and styles, each beautifully crafted to capture the natural detail of the trunk, branches and delicate illuminated blooms.
Delight at the sight of lights sparkling through the beautifully crafted, life-like tree trunk and branches of an LED Decorative Tree, adding whimsy and charm to any space. Choose a small LED tree to add a subtle sparkling accent to home decor, or make a bold statement with a large focal point and create an inviting, elegant atmosphere at a big celebration or event. Whether displayed indoors or beautifully incorporated in outdoor landscaping, LED trees are destined to impress.
Transform an outdoor space into a stunning oasis, escape the stresses of the day, relax with the natural sounds of a cascading water fountain, and let tranquility take over. Meditate to the soothing sounds of an LED Garden Fountain and marvel in the dancing shadows cast as streams of water cascade into tiered oasis pools, creating a beautiful atmosphere, both day and night.
Create a beautiful, inviting outdoor space for friends and family to enjoy. Add an air of elegance with LED Illuminated Planters to lighten a path, showcase a beautiful garden, or set the mood for a wedding, celebration or evening party.
The options are endless at the Oak Valley Home and Garden Decor Online Store!
About Oak Valley Home and Garden Decor:
Oak Valley Decor has carefully selected each item in their home and garden collections. In selecting a piece for their collection, items are evaluated on quality, artistry, craftsmanship, style and durability to ensure that every piece meets rigorous standards of quality control, and only first-class products of the finest quality are offered to customers.
For further information, please contact:
Contact: Mark Rafanan
Phone Number: 1-800-868-9176
Email: info(at)oakvalleydecor(dot)com