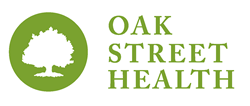 CHICAGO (PRWEB) November 04, 2019
Oak Street Health, a network of primary care centers that delivers value-based care to adults on Medicare, announced the launch of its Fellowship for Value-Based Care Leadership, in partnership with the Kellogg School of Management at Northwestern University.
The fellowship is designed to integrate medical training with advanced principles of value-based care and concepts to become an effective leader. Successful completion of the 24-month program results in a sponsored Master of Business Administration (MBA) degree from Northwestern University's Kellogg School of Management and consideration for a clinical leadership role with Oak Street Health.
The program begins in July 2020 and is based in Chicago. The selected fellows will have the unique opportunity to both provide patient care and rotate through three of Oak Street Health's core business units: Clinical Quality, where they will collaborate with clinical leaders to ensure consistency in operation and create a high-quality patient experience; Care Navigation, where they will foster external relationships and partnerships to support care teams and patients across the entire patient lifecycle; and Population Health, where they will build interventions that contribute to a higher-quality and more cost-effective care delivery organization.
Fellows will spend six months in each business unit, three months in an elective rotation, and a final three months at an Oak Street Health center as interim Medical Director for hands-on training and experience. Throughout the entire program, fellows will be mentored by an Oak Street Health Senior Medical Director. Fellows will also complete the requirements to earn an MBA at the Kellogg School of Management, including core coursework and electives focused on the intricacies of the public-private nature of healthcare.
"Oak Street Health's mission is to rebuild healthcare as it should be, and our providers are deeply committed to achieving that goal," said Dr. Griffin Myers, Oak Street Health co-founder and Chief Medical Officer. "We're thrilled to launch our Fellowship for Value-Based Care Leadership in partnership with the Kellogg School of Management. The program offers unprecedented access and experience for physicians to learn how to be an effective leader, through both clinical and business training, in a value-based care environment. We look forward to meeting and training future clinical leaders."
"At Kellogg, we are always searching for ways to enable our students to have an impact on the business of healthcare," said Professor Craig Garthwaite, faculty director of Healthcare at Kellogg. "Oak Street Health was a natural partner as an organization that is creating a sustainable business model to serve a vital need for an underserved community. We are excited to help train the next generation of leaders in this effort."
Oak Street Health is currently seeking applications for its fellowship. Physicians that will be board certified or board eligible in Family Medicine or Internal Medicine when the program begins are encouraged to apply. To learn more about the program, contact Tayler Stogsdill, SVP of Provider Services, at tayler.stogsdill@oakstreethealth.com or Dr. Kevin Stephens, Medical Director of Avalon Park, at kevin.stephens@oakstreethealth.com. To learn more about Oak Street Health, visit oakstreethealth.com.
About Oak Street Health
Oak Street Health is a network of primary care centers for adults on Medicare designed to make healthcare more personal, equitable and accountable for all. Oak Street Health centers offer more than a standard visit with a doctor by providing transportation to and from appointments for eligible patients, insurance education, and other supplemental services such as podiatry, behavioral health, and in-center pharmacies. To encourage social wellness, each center hosts social, fitness and learning activities throughout the year.
About Kellogg School of Management
The Kellogg School of Management at Northwestern University is a premier global business school committed to its mission to educate, equip and inspire leaders who build strong organizations and wisely leverage the power of markets. Based just outside of Chicago, our vibrant, global community of faculty, staff, students and alumni shapes the practice of business and organizations around the world. Kellogg offers an innovative portfolio of programs: five Full-Time MBA programs including the accelerated One-Year MBA and Two-Year MBA options, and joint degree programs with the engineering, medical and law schools; an Evening & Weekend Program; the Executive MBA global network; a Master of Science in Management Studies; and extensive non-degree Executive Education programs.