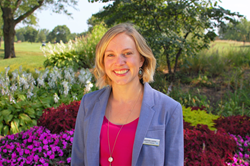 Oak Brook, IL (PRWEB) September 06, 2017
The Hilton Chicago/Oak Brook Hills Resort & Conference Center has appointed Jeannette Lemrise as its Director of Marketing. The 15-year marketing veteran, who most recently was responsible for creating best-in-class hotel website experiences, now looks to advance Oak Brook Hills' status as one of the preeminent event destinations in Chicagoland. Lemrise is focused on bringing more awareness to all the distinct lifestyles opportunities at the IACC-certified, 386-room west suburban resort, overseeing advertising, social media and public relations operations in her new position.
"I'm looking to help this hotel be the backyard to the community," Lemrise asserts. "Our General Manager Steven Ellingsen is a visionary, and his caliber of exciting events requires a dedicated marketing effort." Examples of some of the highly-anticipated community events coming up at Oak Brook Hills include EN NOIR: A Casino Royale Masquerade benefiting Imerman Angles in October, and Timeless, a New Year's Eve gala starring the world-renowned Rat Pack is Back from Las Vegas.
Lemrise's loyalty to Hilton has never wavered and she is excited to join forces with the Oak Brook Hills team to create compelling marketing plans, shape brand identity and maximize online presence. She begins her tenure at Oak Brook Hills by incorporating best practices learned over an impressive career. At Hilton Worldwide, Lemrise drove eCommerce growth for downtown Chicago hotels. At First Hospitality Group, she was responsible for marketing new hotels (a mix of Marriott, Hilton, IHG, Hyatt, and independent brands) and partnering with sales to creatively position the hotels to succeed. Her professional experience also includes retail marketing, event planning and sports marketing.
"Jeannette is going to be essential in bringing our innovative events to life," says Ellingsen, who has repositioned the newly renovated resort as the premier venue to host world-class events in Illinois. "Her diverse background in hotel marketing and her creative mindset will help give us momentum and an even bigger competitive advantage."
Lemrise majored in Marketing at Drake University and holds a Bachelor's of Science in Business Management and Administration. In her free time, she enjoys riding her bike in the trails, volunteering as a Chicago tour guide, exploring new recipes or restaurants, and dabbling in photography excursions.
About the Hilton Chicago/Oak Brook Hills Resort & Conference Center:
One of the Midwest's premier lifestyles and conference resorts is nestled away in the upscale suburb of Oak Brook, Illinois – just 20 miles west of Chicago. Completely renovated in 2016, the Hilton Chicago/Oak Brook Hills Resort & Conference Center (3500 Midwest Road, Oak Brook, IL 60523) offers over 42,500 square feet of stylish meeting and event space, making it an ideal venue for weddings, conferences, or weekend getaways. The 386 rooms and 39 suites are complemented by a stunning Grand Ballroom, a tented outdoor pavilion, an exclusive Executive Lounge, exercise/spa facilities, indoor and outdoor swimming pools, and the 18-hole Championship Willow Crest Golf Club. In addition, the resort boasts two full-service dining options – the acclaimed farm-to-table restaurant and lounge, B., and the casual gastro pub, Tin Cup. The property, which has achieved IACC Green Star Gold Tier status, is managed by Westmont-based Portfolio Hotels & Resorts. Visit http://www.oakbrookhillsresort.com for reservations or more information, or call the hotel direct at 630.850.5555.