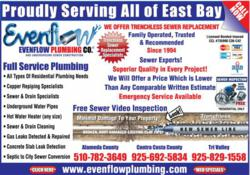 Sewer repair companies in Oakland who are ethical and do a good job and don't rip people off can be hard to find
Oakland, CA (PRWEB) March 16, 2014
Oakland sewer repair and sewer test experts at Evenflow Plumbing have years of experience helping people get their PSL Certificate. Sewer repair in Oakland has become much more common lately because of the Oakland PSL ordinance which requires people to repair their main sewer lateral before a house can close escrow.
"Sewer repair companies in Oakland who are ethical and do a good job and don't rip people off can be hard to find," says Gary Dimodana, Owner of Evenflow Plumbing."
Oakland homeowners who decide to sell their homes need to consider the condition of their sewer line because potential buyers are aware of the requirement for the sewer pipe to have no leaks. The EBMUD ordinance, which was derived with the help of the Environmental Protection Agency, requires that sewer lines in Oakland don't allow ground water to enter the private sewer lateral.
The reason the EPA and EBMUD are enforcing this Oakland sewer repair ordinance is because repairing the sewer line limits the amount of storm water and rain runoff that enters the sewer system unnecessarily. The PSL Ordinance will significantly reduce the amount of clean water that enters the treatment plant which saves the local municipality money.
Sewer repair in Oakland must be contracted by a licensed plumber who can perform all of the needed work. Some plumbing licenses only the plumber to do work on private property. In many situations a plumber is needed who can access the sewer line in the street. Consumers should be very diligent about doing their homework before hiring a sewer contractor in Oakland.
The new plumbing coupon being offered by Evenflow Plumbing is for a no cost sewer system inspection with the purchase of a main line clearing. This offer expires on 10/31/2014. Consumers can redeem the coupon by calling Evenflow Plumbing for sewer cleaning and mentioning that they have the coupon for a no cost video sewer repair inspection in Oakland.
Evenflow Plumbing has been providing sewer repair, trenchless sewer replacement and sewer testing services in Oakland for almost 20 years. "I always consider the customer first. I am a consumer like everybody else and I know how I want to be treated. I make sure our team treats people the way I want to be treated," says Gary Dimodana.
To learn more about sewer repair in Oakland please give Evenflow Plumbing a call. Consumers are also invited to learn more about Evenflow Plumbing by visiting their website or viewing their many positive consumer reviews on trusted contractor review sites like Google and Yelp.
Evenflow Plumbing Co
360 Grand Ave
#155 Oakland, CA 94610
(510) 562-1363
evenflowplumbing.com