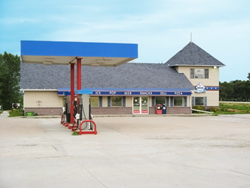 Oakland, NE (PRWEB) April 18, 2014
Those looking for a significant commercial property to invest in should look no further. A combination gas station and convenience store property has opened up at 909 Highway 32 in Oakland, Nebraska just an hour northwest of Omaha in Burt County.
The 2.79-acre property, upon which was the gas station and c-store was constructed in 1998, provides excellent exposure due to its location off of Highway 32, and, thanks to quality maintenance, is currently in great condition.
The convenience store contains a walk-in cooler, a small kitchen area, and two seating areas for customers. Additional improvements include two large canopies covering the gas pumps and several underground fuel storage tanks.
Oakland, the Swedish capital of Nebraska, is something of a cultural hotspot. It was settled in 1855, and its primary industries include farming, cattle and hog production, feed processing, wholesale and retail sales, construction, and medical services.
The nationally recognized Swedish Heritage Center opened in 1989 and continues to be a big draw, with numerous programs and year-round activities. During the first weekend of June in odd-numbered years, the Swedish Festival is held, with many events and programs including entertainment, crafts, and good food.
The Oakland gas station and convenience store property is listed at $245,000 with an opening bid of $145,000 if no offer is received before the auction date on April 26, which is scheduled to take place online online at micoley.com.
This is an excellent commercial investment property, both for parties looking to add profit to their gas station/c-store portfolio and for those interested in diving headfirst into the industry for the first time.
Interested parties should visit http://www.micoley.com to find more photos and details about the property, or by visiting in person and performing an inspection on site, which is highly recommended. (866) 371-3619 is Micoley.com's information line. Additionally, Micoley.com features a live chat service through which questions can be answered.
About Micoley:
Green Bay, WI-based Micoley.com is a real estate marketing firm specializing in project focused auctions of bank-owned properties throughout the United States. The Micoley approach to real estate marketing tailors each auction plan to the client's individual needs. The site is constantly being updated for the benefit of buyers, as large scale auction events are held monthly, and new properties are added daily. Auctioneer Firm: Micoley.com #432-53. Registered Wisconsin Auctioneer: Wade T Micoley #2647-052. Broker: Wade T Micoley #43427-90. Broker: Daniel Wortman #0970747.