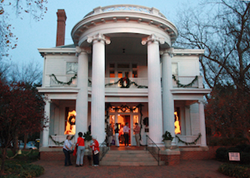 "Oakwood homeowners graciously open their doors to the public and showcase their home's character adorned in holiday decorations," said Tour Chair Ellen Nightingale. "What better way to get into the holiday spirit?"
Raleigh, N.C. (PRWEB) September 05, 2016
Oakwood residents in Raleigh have already begun to prepare to deck their halls and open their historic homes to the public for the 45th annual Historic Oakwood Candlelight Tour on Saturday and Sunday, December 10-11, from 1 to 7 p.m. Triangle residents and visitors from across the Southeast are invited to tour 12 of the region's grandest homes in this delightful Southern holiday tradition.
Residents whose homes are featured spend six months getting ready for the tour, with many volunteers offering their talents and time for the event. The participating homes, dating from the mid-1800s to early 1900s, range in style from Queen Anne cottages to Neoclassical Revival and Italianate residences.
"Historic Oakwood's Candlelight Tour is a treasured tradition that dates back nearly half a century," said Tour Chair Ellen Nightingale. "The homeowners graciously open their doors to the public and showcase the home's historic character adorned in holiday decorations. What better way to get into the holiday spirit?"
Docents stationed at each residence offer information about the rich history of the property and of the family lineage in the community. Ticket holders are welcome to tour the properties at their own pace, typically allowing three to four hours to complete the 12 home tour. The annual Historic Oakwood Candlelight Tour benefits the nonprofit Society for the Preservation of Historic Oakwood, which has been responsible for saving numerous older homes damaged by fire or that had fallen into disrepair. Each year, a charity partner is chosen to benefit, as well.
Advance tickets are on sale for $25 with group rates available. Day-of tickets will be available at The Tucker House, 418 N. Person St.
About the Historic Oakwood Candlelight Tour
The 45th annual Historic Oakwood Candlelight Tour offers a chance for area residents to walk through some of Raleigh's oldest and grandest homes. The self-guided tour features different homes each year, and visitors can tour them at their own pace. Get a glimpse of past tours on the Oakwood Facebook page and by visiting http://www.historicoakwood.org.
###