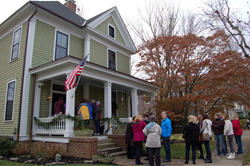 The tour includes homes brimming with holiday cheer and decorations, said Ellen Nightingale
Raleigh, N.C. (PRWEB) November 30, 2014
Residents in the Historic Oakwood neighborhood in Raleigh have been decking their halls for four decades, inviting Triangle families to tour of some of the area's grandest homes. The public is invited to celebrate the holidays at the 43rd annual Historic Oakwood Candlelight Tour from 1 to 7 p.m. Dec. 13 and 14.
Advance tickets are on sale now through Dec. 11 at http://www.historicoakwood.org.
"The Historic Oakwood Candlelight Tour is a cherished part of many families' annual holiday traditions," said Ellen Nightingale, event chair. "The tour includes homes of all sizes and styles from different eras all brimming with holiday cheer and decorations."
The 43rd edition of this tour offers a glimpse inside 12 area historic homes decked out for the holidays. Homes on this year's tour range in style from Queen Anne cottages to Neoclassical Revival and Italianate residences. Tour homes feature unique design elements that include elaborate woodwork, original fireplaces and vintage lighting as well as contemporary floor plans, kitchen remodels and even a home with an elevator.
Ticket holders tour the community at their own pace in any order. Each home is staffed with docents who offer information about the rich history of the property and community.
Visitors to the Tucker House, 418 N. Person St., will be treated to musical offerings from The Oakwood Waits, Raleigh's Dickens-era-costumed vocal ensemble. During tour hours, attendees can also relax with complimentary cookies and cider at The Tucker House, the site of the tour's gift shop.
Each year, the tour is held in honor of a local organization. For 2014, the neighborhood is partnering with the City of Raleigh Fire Department. Over the years, numerous residences have been saved from fire damage and neglect thanks to fire department response efforts and the nonprofit Society for the Preservation of Historic Oakwood. Candlelight Tour proceeds benefit area nonprofits.
Group ticket rates are available. Day-of tickets will be available at The Oakwood Inn, 411 N. Bloodworth St., and at The Tucker House, 418 N. Person St.
About the Historic Oakwood Candlelight Tour
The 43rd annual Historic Oakwood Candlelight Tour offers a chance for Triangle residents to walk through some of Raleigh's oldest and most ornate homes. The self-guided tour features different homes each year, and visitors can tour them at their own pace. Get a glimpse of past tours on the Oakwood Facebook page. Parking and other information can be found online.