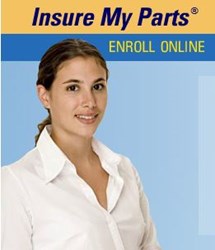 struggling families will not find out in time
Chula Vista, CA (PRWEB) December 06, 2013
The availability of a one (1) year reprieve from Obamacare, for U.S. citizens in need of new or less expensive health insurance, is coming to a quick close - Dec. 15 for some states, such as California, and Dec. 30 or 31 for other states including Texas. California based website InsureMyParts.com is uniquely positioned to help residents in all eligible states enroll online in the health insurance plan of their choice.
"To my knowledge, this is the only website in the nation whose primary focus is helping adults and families enroll themselves online in a 2013 health insurance plan with a one year extension of benefits," says Mr. R. Girard, licensed insurance professional and co-creator of InsureMyParts.com. "Companies and plans vary by state, and some states have no health insurance plans with these extensions; however, approximately 70% of the U.S. still has this option."
The option to enroll online is one the Federal Government has struggled with since the launch of its healthcare website, Healthcare.gov, in October of this year. Quotit®, a secure online quoting system used by InsureMyParts.com, is fully operational 24/7 despite ongoing modifications. Individual agent portals, run by the insurance carriers themselves, are also available on the website and fully operational.
Suffice it to say, the necessity of online enrollment is now firmly embedded in the collective minds of the general public. Therefore the need for Self-Serve Insurance®, the ability to compare companies, plans, and prices side by side from the comfort and convenience of home, then enroll online with a checking account or credit card, has never been greater.
Millions of residents in 34 states + Washington, D.C. now have mere days to learn about the full 12 month extension of benefits which count as creditable coverage, thus legally avoiding the IRS tax penalty. (1% of gross income in 2014 - $95 minimum). This should come as welcome news for those unable to afford the new PPACA "Affordable Care Act" plans, including the currently uninsured.
For those who are worried about switching doctors and/or hospitals, each major insurance carrier provides a "Doctor Finder" - an online search tool for all physicians and medical facilities within that company's network of providers, which can and should be used prior to submitting an online application.
In Conclusion: As long as legal U.S. Citizens are healthy enough to pass through underwriting, with an effective start date in December 2013, they need to know immediately that it is not too late to take advantage of this 1 year reprieve / extension of health insurance benefits.
"It hurts to think how many individuals and struggling families will not find out in time that they could have enrolled in a brand new health insurance plan that they could actually afford," says Mr. R. Girard. "Unfortunately, the insurance companies are not going to advertise this - not while the Government is trying to usher the masses into the new Obamacare Plans."
ABOUT
Providing Access to the nation's Top A-Rated Health Insurance Carriers, Mr. Réne "Rainy" Evan Girard, DBA Hesed Insurance Solutions, is a licensed Life & Health Insurance agent from Texas, now residing in California, whose Insure My Parts® website makes the process of enrolling online both easy and fun with informative videos, definitions of common insurance terminology, and Frequently Asked Questions and Answers. He also owns the registered trademarks for Self-Serve Insurance® and Self-Service Insurance®.
States Served: AK, AL, AR, AZ, CA, CO, CT, DE, FL, GA, IA, IL, IN, KS, KY, LA, MD, MI, MS, MO, NE, NC, NV, OH, OK, PA, SC, SD, TN, TX, UT, VA, WI, WV, WY + DC