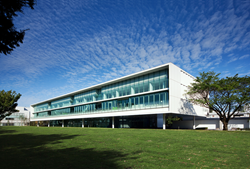 Obayashi will leverage this experience in not just the LEED projects in Japan, but also in emerging global markets.
San Francisco, Calif. (PRWEB) January 28, 2014
Obayashi Corporation's Technical Research Institute in Tokyo, Japan, has recently been awarded Japan's highest rated LEED Platinum certification for their Techno Station facility under the USGBC LEED for Existing Buildings and Operations Maintenance (EBOM) rating system. Working in collaboration with Webcor Builders, Obayashi Group's subsidiary in the United States, the Techno Station was awarded 95 points, the highest LEED score ever awarded to a building in Japan and the third-highest LEED score under LEED-EBOM v2009 in the world.
Obayashi Corporation felt that it was important to evaluate the building based on its actual operational performance in addition to its predicted performance. At the same time, they were aware of the international growth and importance of the LEED market. The Techno Station has been certified under Japan's Green Building Rating System called "CASBEE for New Construction", and to this end, Obayashi Corporation moved forward to pursue the LEED-EBOM certification in addition to the CASBEE for Existing Building certification.
Webcor Builders was engaged as the LEED Consultant for the project. For 18 months, the companies worked closely using iLiv Technologies' All-In cloud-based software, an online collaboration tool. iLiv helped the project teams collect and share data, maintain communication, and track project tasks effectively.
Webcor also contracted Environmental Building Strategies (EBS) to assess the building's performance through an ASHRAE Level II energy audit, provide a cost/benefit analysis for energy efficiency upgrades, and formalize an ongoing Retro-Commissioning (RCx) process for Obayashi to continue optimizing the building's performance over time. Webcor and EBS also provided training opportunities to the Obayashi team on the LEED Rating System, Ongoing Commissioning and occupancy comfort testing, demonstrating how Obayashi can continuously fine tune the Techno Station's performance.
Webcor Builders utilizes its deep knowledge and experience in green building construction and LEED certification to support Obayashi Corporation and their affiliates worldwide. Obayashi will leverage this experience in not just the LEED projects in Japan, but also in emerging global markets to contribute to the construction of green buildings.