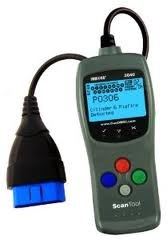 Our engines are evaluated and calibrated prior to sale, but this does not help vehicle owners who did not purchase motors from our company
Portland, Oregon (PRWEB) August 25, 2013
Automotive diagnostic scan tools currently sold online can be found on many retail websites. Essential information about the use of these tools can be left out by retailers. The Got Engines company has now published its OBD wiki for car owners online at http://www.gotengines.com/blog/reviews/obdii-scanner-reviews-obd-2-scanner-diagnostic-code-reader.
This expanded information includes the OBD1 and OBD2 technologies that are placed into the popular scan tools marketed by retailers. This engines company sells used motors and is now helping to educate its customers with this auto scan tool wiki online.
"Buyers purchase auto scan tools and often go through a learning curve to use these devices correctly," said a source from the GotEngines.com company.
The wiki for OBD2 scanners online seeks to educate all car owners purchasing these units to diagnose automobile problems.
The standard edition OBD technology is used mostly for vehicles produced before 1990, according to the new OBD wiki content online.
The introduction of OBD2 scan tools opened up the possibilities of diagnosing more modules placed inside of vehicles. Car owners making a first or repeat purchase for an auto scan tool online could find this wiki beneficial.
"Our engines are evaluated and calibrated prior to sale, but this does not help vehicle owners who did not purchase motors from our company," the source added.
The OBD II codes, price information and overview of top models posted online is expected to educate consumers both before and after these device purchases are made. Consumers can access this new wiki 24 hours a day and updates are made daily to existing content.
About GotEngines.com
The GotEngines.com company website features more than 1000 engine pages that are written by company specialists to educate all engine researchers prior to the completion of a replacement engine order. These detail pages help promote the engine quality and stock status for all units that are marketed to consumers for sale. The GotEngines.com specialists providing the information that is marketed to consumers are experienced in the used engine business and help this company to grow its volume of sales each year. Shipment terms and price quotations are offered direct on the company website.