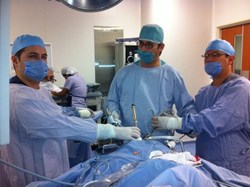 We recognize the importance of technology and the internet to help our patients.
Jalisco, Guadalajara (PRWEB) October 16, 2013
Since the start of the global economic crisis many things have negatively been affected by the loss of jobs and the reduction of family income, and as history shows it is during difficult financial times like the one we are living in today, where obesity becomes ever the more relevant.
One of the first things to go quite often are healthy eating and regular exercise. In many cases, stress and worry take over and the mind becomes complete blocked, which leads to inactivity and at times a deterioration of healthy eating. There is an obesity epidemic, a rise in diabetes and other obesity related illnesses, and there is a surgeon in Guadalajara, Mexico, that is innovating the way he works with weight loss surgery patients.
Dr Castaneda, one of the leading bariatric surgeons in Mexico, has performed over 5000 weight loss procedures and he's passionate about his patients and how the internet improves his communication and performance. "With the launch of GastricBypassMexico.com and DuodenalSwitchinMexico.com earlier in Summer/Spring of 2013, we have progressed in the right direction, all of us at the hospital are now better connected with our patients and truly help them through the process.", says Dr Castaneda.
In a recent interview he talks about the recent statistics that confirm Mexico as the most obese nation on the planet, surpassing the USA for the first time: "What we are seeing across Mexico, USA and Canada is a reflection of many factors. When the economy performs badly, health is one of the first victims as well. Mind and body need to work together, and when worry takes over important things like healthy eating or exercising daily usually take second stage in a fast moving society. We recognize the importance of technology and the internet to help our patients, weight loss surgery can really change and improve people's lives and a psychological assessment is part of the work that we do," says Dr Castaneda.
"We work with each and every patient individually, the new websites provide prospect patients with an initial psychological and nutritional assessment that proceeds bariatric surgery. By understanding our patients and their specific needs right from the start we can customize weight loss surgery for them".
Dr Castaneda has developed a very easy to use Bariatric App, so anyone with a concern about bariatric surgery can check a variety of features easily.
Undoubtedly, the online nutritional assessment is a great new addition to patients searching for weight loss surgery in Mexico.