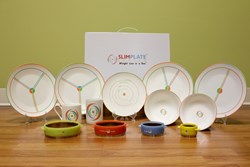 With this system users can eat what they like, cook with any style they wish, eat the same food as their family and keep their own dining traditions.
Rock Hill, SC (PRWEB) October 15, 2013
One third of the American population is obese. As a result, obesity is getting everyone's attention. New obesity organizations are forming, the government is beginning to regulate portion sizes in some states, and school lunches need to meet new standards. Everyone knows that fight against obesity is real and the battle that must be won.
What is the solution to obesity?
This is how weight loss doctors look at it. People like food, and people must eat to live. In fact humans were born to eat. Placing too many restraints on what people can eat goes against nature.
That's why the SlimPlate System was developed. With this system users can eat what they like, cook how they wish, eat the same food as their family and keep their own dining traditions.
The SlimPlate System portion control kit doesn't change anything the user enjoys; they keep the same foods they are currently eating.
How do users lose weight if they continue eating the same foods they gained weight eating in the first place?
The SlimPlate System was created to provide the answer. The complicated measurements have already been done by the doctors; the user only has to focus on what they would like to fill the portion control dishes with. The user does not have to count calories or carbs.
Do you know if a person eats too many carbs, their body saves it as fat, if they eat too little carbs, they lose muscle? How much is the right amount?
That amount of carbs is not found in a text book, it's not written in stone somewhere.The weight loss doctors have learned it from their patients who experienced accelerated weight loss and then kept the weight off.
That same science is applied in The SlimPlate System.
That is the magic, if users stay on the SlimPlate System portion control cups, bowls, plates, and cutters they will not exceed the amount of carbs they should have. They are able to eat their own food and create a new healthy lifestyle which is sustainable for the long term. That is how users are able to lose weight and keep it off for the long term.
The smartest way for anyone to lose weight is to keep their body in fat burning mode. That is the easiest way to shed pounds from fat.
If two people are standing next to each other and one is approximately double the size, it does not mean the larger person is eats more.
Overweight people do not necessarily eat more than a person with a healthy BMI. Often an obese person eats less than a smaller person. Why? The metabolism controls weight loss and weight gain. Often obese patients become tired easily or feel sluggish. This means their metabolism is slowing down.
What's the quick fix? How does that person turn their metabolism on?
There is no quick fix. The metabolism is turned on by eating regularly, increasing physical activity and cutting their carbohydrate intake systematically. The metabolism is further slowed down by skipping meals and drinking diet drinks. Regularly eating well balanced meals is the key to turning the metabolism back on.
That is exactly how the SlimPlate System helps users have a fast paced metabolism.
What is the power of the well balanced meals?
It's important to eat real food. For example, natural proteins would include meat, fish and eggs rather than protein shakes and powders. Eating real food speeds up the metabolism. Chewing, swallowing, transporting, digesting, and absorbing proteins from meat is a lot of work for our gastrointestinal system. By the time they are absorbed, the body has spent a lot of calories and has kept the digestive system well utilized. But in comparison, when a person consumes protein shakes or powders, they are easily absorbed into the body without needing to truly use the digestive system.
The same is true here. Eat protein in the right portions. Eat carbs in right portions. Eat vegetables in right portions. Utilize the body's digestive system to the limit. After all, 30-45% of daily energy is utilized by the gastrointestinal system. Use the gastrointestinal system more frequently, and the metabolism will follow suit.
The SlimPlate System is now available just when it's need the most. One third of the Americans are obese. Millions are struggling with it. The SlimPlate System portion control kit is a great tool to help the public fight against obesity.
Ace Medical Weight Loss was founded in 2006 by Dr. Nwe and Dr. Grewal to serve Rock Hill, SC and the surrounding areas. The SlimPlate System was co-designed by both Ace Medical Weight Loss Center founders.
The SlimPlate System can be purchased by phone at 803-325-1111 or online at http://www.slimplatesystem.com. This new weight loss system is available now in the US. Weight loss results may vary.
# # #
CREDENTIALS: Dr. Sandeep Grewal and Dr. Myo Nwe are the founders of Ace Medical Group and the inventors of the SlimPlate System and its related mobile apps. Dr. Nwe is a diplomate of the American Board of Obesity Medicine and Internal Medicine. Dr. Grewal has been named one of Charlotte Business Journal's "Forty Under 40" and received the magazine's 2012 "Innovation in Health Care" award.
AVAILABILITY: North and South Carolina, nationwide by arrangement and via telephone; often available last-minute.
CONTACT: Dr. Sandeep Grewal, (803) 524-3740 (SC); http://www.slimplatesystem.com