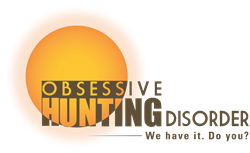 Do not pay another website when you can get everything they offer and more at ObssesiveHuntingDisorder.com for free.
Lake Geneva, WI (PRWEB) August 13, 2013
The Big Wild Radio Program airs on 25 stations across seven states on Fridays, Saturdays and Sundays. Listeners should check their local radio stations or listen to a podcast at http://www.thebigwild.com/. The Wild Radio Program has had guests like Jeff Foxworthy, Babe Winkelman, Bill Dance, Jackie Bushman and now Duane Keenan.
When asked what ObsessiveHuntingDisorder.com was all about, Duane Keenan, an avid hunter and founder of ObsessiveHuntingDisorder.com, had this to say, "It is an Online Hunting Journal, a Hunting Diary and an Online Hunting Logbook designed to help hunters pattern the animals they hunt." The Host, Gundy, is an avid hunter and understands that there are four peak times of the day for hunting and asked Duane to elaborate on that topic. Duane was quick to point out that yes; the experts believe there are four peak times, often referred to as Peak Hunting or Peak Feeding Times. These four times are solely based on the Moon; when the moon is just starting to rise over the horizon, when the moon is directly overhead, when the moon is just setting below the horizon, and when the moon is directly underfoot, all in relation to an exact location."
Duane, went into further detail explaining that ObsessiveHuntingDisorder.com records six lunar variables (moonrise, moonset, moon overhead, moon underfoot, moon phase, moon age), four solar variables (sunrise, sunset, sun transit, photo period), and six weather variables (current temperature, humidity, barometric pressure, forecast, wind, conditions) for ever instance recorded. Gundy asked how much a service like this would cost the users. Again, Duane was excited to answer, "The site is 100% free and yes there are other sites out there that have similar offerings but cost between $20 and $100 a year."
Duane went into discussion on the Mobile Website that allows a hunter to be in the woods and easily record observations formatted for every hunter and huntress's smart phone.ObsessiveHuntingDisorder.com allows a hunter to get that information in less than five seconds. ObsessiveHuntingDisorder.com calculates the information for the hunter's exact location, and can even calculate for days in the past or in the future.
For more information about the free online hunting logbook, go to http://www.obsessivehuntingdisorder.com.