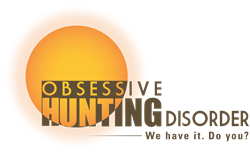 Do not pay another website when you can get everything they offer and more at ObssesiveHuntingDisorder.com for free.
Lake Geneva, WI (PRWEB) September 24, 2013
Duane Keenan started with the following, "ObsessiveHuntingDisorder.com doesn't predict the best times to hunt. We provide all of the variables and let hunters decide what they are most interested in, so that hunters can make their own decisions and predictions."
Here are the variables that Duane is referring to: six lunar variables (moonrise, moonset, moon transit, moon underfoot, moon phase and moon age), four solar variables (sunrise, sunset, sun transit, photo period), and six weather variables (current temperature, humidity, barometric pressure, forecast, wind, conditions).
Duane went on further to talk about why they needed to enhance the application that is just a year old. "Providing weather, solar and lunar information is great, but it has to be easy to use and after using the application for a season I found that entering observations wasn't easy enough. We went back to the drawing board and based on user feedback made some enhancements."
The enhancements Duane is talking about allow a user to get information faster and enter observations with fewer clicks.
First, ObsessiveHuntingDisorder.com moved all information associated with location into the Stand/Marker properties. This eliminated the need to enter information more than once. A Hunter's Stand/Marker is now the driving force behind everything. People have always said it is all about location, location, location and now it is.
Second, ObsessiveHuntingDisorder.com changed how data is retrieved and calculated. Weather, solar and lunar variables are determined from the exact location of the Stand/Marker selected. This eliminates the need to know the zip code/postal code of the Stand/Marker. Now the user need only pick a spot on the map to get the weather, solar and lunar information for that exact location.
Lastly, entering observations needed to be broken down into two areas; hunts and animal activity. By separating the two observations, hunters can enter the actual animal activity by simply selecting the date, time, quantity, activity and any notes. Entering your hunts is nothing more than selecting date, start time, end time and notes. Date defaults to the current date, for all observations, eliminating a mouse click to streamline the whole process.
Inclosing Duane had this to say, "If a hunter has never tried ObsessiveHuntingDisorder.com they need to try it this season. OHD.com won't help a hunter make that perfect shot, but it will help pattern animals and better determine when to hunt."
Hunting season has started in some states and is going to start October 1st in most states, so now is the time to starting journaling animal activity.
For more information about the free online hunting logbook, go to http://www.obsessivehuntingdisorder.com.