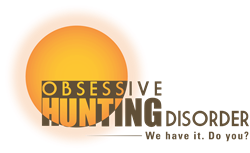 Make hunting a family affair by growing our hunting family
Lake Geneva, WI (PRWEB) October 22, 2013
The Dyer family is a hunting family led by Bill Dyer the father and husband. Bill Dyer, one of the first users, educates his kids about patterning Whitetails in Illinois with ObsessiveHuntingDisorder.com and the results speak for themselves. The Dyer family is a family of five and they all hunt. This month the two youngest hunters both bagged their first deer using ObsessiveHuntingDisorder.com.
Bill had this to say, "I have explained to my kids the importance of logging the animals we see. My youngest son, Dakota age 12, goes through the trail camera pictures and enters them into the website. Dakota also likes to look up the weather information using the website."
When we asked Bill how his kids reacted to shooting their first deer, he got a huge smile and proceeded to tell the stories. First, he told us about Dakota Dyer, age 12. "After pulling the trigger he looked at me for confirmation on a good shot and when I told him he made a great shot he quickly did a fist pump." Dalton's reaction was even funnier. "Dalton asked if she hit the deer, it did the hind leg kick. She posted it on Facebook before I had found blood and she is the one I had to bribe with McDonalds to get her to go out extra early."
The moral of the story is that ObsessiveHuntingDisorder.com is not only a valuable tool for hunters, but also an educational tool to get kids interested in hunting. A hunter can use ObsessiveHuntingDisorder.com to show their kids where they hunt using the Huntin' Area Page and what influences animal movement.
The Huntin' Area page on ObsessiveHuntingDisorder.com allows hunters to place icons, referred to as Stands/Markers, that represent stands, scrapes, rubs, droppings, food sources, trail cameras, etc. on a Satellite or Terrain Map. Users can also draw deer trails, fences, bedding areas, and property borders. The Stands/Markers can be give names, descriptions and save notes where they belong; on the map. The Stands/Markers are part of entering observation into the database.
Along with objects placed on the map by hunters, there is a Wind Direction Arrow visible at all times and any experienced hunter understands the relationship between wind direction and scent control.
To help young hunters understand the animal movement ObsessiveHuntingDisorder.com displays and records 16 variables with every entry into the hunting logbook. Here are those variables: six lunar variables (moonrise, moonset, moon transit, moon underfoot, moon phase and moon age), four solar variables (sunrise, sunset, sun transit, photoperiod), and six weather variables (current temperature, humidity, barometric pressure, forecast, wind, conditions).
Hunters can get their kids involved by having them go through the trail camera pictures and entering them into the website, like Bill Dyer has his son Dakota doing.
In closing Duane Keenan, owner and creator of ObsessiveHuntingDisorder.com, had this to say, "We don't predict the best times or places to hunt. We help hunters map out their hunting areas, gather their own data and decide what data they are most interested in, so that hunters can make their own decisions and predictions. So why not make this a family affair and get your kids involved?"
For more information about the free online hunting logbook, hunting journal and hunting diary go to http://www.obsessivehuntingdisorder.com.