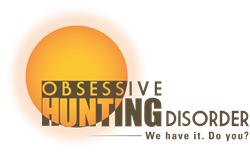 The Online Hunting Logbook that will help every hunter be more successful!
Lake Geneva, Wisconsin (PRWEB) November 12, 2013
ObsessiveHuntingDisorder.com knows that hunters work hard to pattern the animals they hunt, by spending countless hours observing animals, recording data, and reading materials on the subject. This Online Hunting Logbook takes it to another level by combining the observations and the recording of data into a very simple process. Hunters are always looking for the link between the moon, the sun, and the weather as it relates to whitetail deer movement.
Webster's dictionary defines a pattern as, "A recognizable characteristic relationship or set of relationships between the members of any set of objects or actions, or the properties of the members; also the set of definable relationships between its members."
Animals aren't bothered by the news, what is going on in politics, or who is the best team in the NFL, NHL, or NBA. There are three major factors that exist every day in an animal's life: weather, sun, and moon.
ObsessiveHuntingDisorder.com understands that those three factors are what animals are surrounded by every minute of every day. ObsessiveHuntingDisorder.com automatically calculates six lunar variables (moonrise, moonset, moon transit, moon underfoot, moon phase, moon age), calculates four solar variables (sunrise, sunset, sun transit, photo period), and retrieves six weather variables (current temperature, humidity, barometric pressure, forecast, wind, conditions).
ObsessiveHuntingDisorder.com makes it easier for hunters to record that information and use the power of thousands of hunters to share those observations to help each other be more successful.
ObsessiveHuntingDisorder.com allows a hunter to get that information in less than five seconds instead of the 15 - 30 minutes it would take a hunter to search the internet. The information on the internet is general information. ObsessiveHuntingDisorder.com calculates the information for the hunter's exact location, and can even calculate for days in the past or in the future.
Uncover what "the rut" is all about and why during one year, rutting activity is observed, and during another year, "the rut" didn't seem to exist. Entering observations and reviewing the research results with ObsessiveHuntingDisorder.com gives hunters a better understanding of "the rut."
ObsessiveHuntingDisorder.com also provides hunters with their very own Interactive Hunting Map!
With the hunting season in full swing all across North America, it is time to create an account and start patterning the animals by entering data.
Go to http://www.obsessivehuntingdisorder.com now to get started.