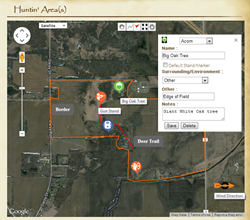 Lake Geneva, WI (PRWEB) December 31, 2013
Some hunters call it a Hunting Journal or a Hunting Diary and some hunters call it a Hunting Logbook, but no matter what a hunter calls it ObsessiveHuntingDisorder.com is what every hunter needs.
We asked Duane Keenan, founder of ObsessiveHuntingDisorder.com, how he came up with the idea and he started with this. "I started keeping paper records of the times I saw deer activities to try and predict the future from the past. Logging observations on paper and having to look up the weather, lunar and solar variables was just too time consuming, not to mention each entry was just that, an entry in a logbook, so unless I went back through each entry I wasn't really learning much from my logbook." Duane continued to explain that putting all of the entries into a database would allow him to sort the data any way he wanted. Therefore, if he wanted to see the days when the Moon was full and the weather was cold in relation to deer activity he could and the idea for ObsessiveHuntingDisorder.com was born.
The Free Online Hunting Logbook gives hunters the ability to retrieve and record a large amount of data for the times they see animals and the times they don't. The site is designed such that registered hunters can retrieve data and enter observations in a matter of seconds not minutes.
What data is provided? ObsessiveHuntingDisorder.com automatically calculates six lunar variables (moonrise, moonset, moon transit, moon underfoot, moon phase, moon age), calculates four solar variables (sunrise, sunset, sun transit, photoperiod), and retrieves six weather variables (current temperature, humidity, barometric pressure, forecast, wind, conditions). This information is not based on generic times or regions, like seen on other websites or in all hunting magazines. This information is specific to your exact location and it is not just an entry in a logbook; this information is added to a database along with hundreds - if not thousands - of logbook entries from other registered hunters. ObsessiveHuntingDisorder.com will not share hunters' hunting secrets because a hunter's exact location and logbook notes are private and can only be seen by the hunter.
Don't pay a website for the Peak Hunting Times. The secret is out. "Peak Hunting Times" are based on four periods of the day: when the moon is just starting to rise over the horizon, when the moon is directly overhead, when the moon is just setting below the horizon, and when the moon is directly underfoot, all in relation to an exact location. ObsessiveHuntingDisorder.com will record this information - and much more - for each logbook entry entered into the database.
What makes Obsessive Hunting Disorder's predictions better than a hunter's predictions? Nothing. ObsessiveHuntingDisorder.com doesn't make predictions. They gather the raw data and let hunters decide what data they are most interested in, so that hunters can make their own decisions and predictions.
ObsessiveHuntingDisorder.com also provides hunters with their very own Interactive Hunting Map.
With the Hunting Season is in full swing, it is not too late to create an account and start patterning the animals by entering data.
Go to http://obsessivehuntingdisorder.com now to get started.