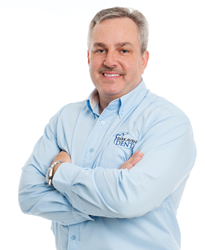 We are confident to say there is up to a 96-percent success rate for patients treated with these appliances.
Orange Park, Florida (PRWEB) March 29, 2014
Park Avenue Dental, a leading Florida-based dental practice led by Dr. Michael A. Sherman, recently announced the addition of obstructive sleep apnea treatment to its roster of available services. Utilizing a specialized oral appliance, Dr. Sherman and his staff are committed to combating the ugly specter of oxygen deprivation during sleep, which can occur up to 600 times per night. Further, according to Park Avenue Dental specialists, this oxygen deprivation known as sleep apnea causes patients to feel exhausted when awakening, as though they really haven't been sleeping, and these lower oxygen levels also put a strain on the heart.
The Park Avenue Dental process of sleep apnea treatment begins with patients' fitting for an oral appliance for snoring/apnea. "After patients are fitted for the oral appliance, we take time to adjust it to a comfortable and effective position," explains Dr. Sherman. "We then recommend a follow-up evaluation by the patient's regular MD, while preferring all our sleep patients come to see us twice per year during active treatment to make sure the oral appliance remains in good condition…and is effective." According to Dr. Sherman, these oral appliances reduce the health risks associated with sleep apnea without surgery or medication.
"We are confident to say there is up to a 96-percent success rate for patients treated with these appliances," proudly states Dr. Sherman.
Park Avenue Dental, being overseen by a top dentist in Orange Park FL, Dr. Sherman ensures its obstructive sleep apnea patients' individual situations are fully addressed by beginning with an objective medical examination. After a patient's physician makes the diagnosis, he or she will receive a thorough dental exam by Dr. Sherman, where he will discuss all of the sleep apnea treatment options, advantages, limitations and consequences.
As a graduate of the University of Detroit School of Dentistry, Dr. Sherman has dedicated his career to providing patients with the "very best dental care" as a family dentist in Orange Park FL. He is a member of the American Dental Association, the Florida Dental Association, Clay County Dental Association, the Academy of General Dentistry and the Clay County Chamber of Commerce. His practice also specializes in cosmetic dentistry, Invisalign orthodontics, gum disease treatments and same-day crowns and tooth restoration via CEREC.
Park Avenue Dental is located at 2233 Park Avenue in Orange Park and can be reached by calling (904) 269-5520. For more information about the clinic's sleep apnea treatment or oral appliances visit http://www.parkavenuedentalfl.com.