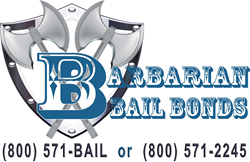 Orange County visitors and residents can be arrested any time for DUI or Domestic Violence.
Fullerton, CA (PRWEB) October 27, 2015
Orange County, CA. Barbarian Bail Bonds, a top-rated bail bond company serving Orange County communities like Fullerton, Anaheim and Santa Ana, has launched a new blog summary page concerning 24 hour, emergency bail bond information. DUI and domestic violence arrests happen 24 hours a day, on holidays and weekends. The new "tag" in the Barbarian Bail Bond system will allow interested parties to easily skim information on how Bail Bonds work during off hours, such as 3 a.m. on a Sunday morning.
"Orange County visitors and residents can be arrested at any time for DUI or Domestic Violence. Holidays, vacations and three day weekends are no exception," explained Francisco Cobo, owner of Barbarian Bail Bonds. "Our newly updated blog and specific "tag" on the site allow customers to find 24 hour bail information for several cities in one place. Our blog system will post articles about the 24 hour emergency bail bond process whether it is Christmas or summer vacation, and customers will easily be able to skim this information online."
To review the new Barbarian Bail Bonds blog pages, focused on 24 hour issues, please visit http://www.barbarianbb.com/tag/24-hour-bail-bonds/. Information about 24 hour emergency bail bond service, and the bail posting process, is available by clicking down to individual posts. In addition, the importance of a professional bail bondsman with round-the-clock availability is explained in detail for the cities of Anaheim, Fullerton and Santa Ana. Additional posts on 24 hour bail bond topics are planned for November and December, 2015.
Orange County Residents Have Access to Emergency 24 Hour Bail Bonds Service at the Doorstep Any Day, Any Time
Large cities such as Anaheim, Santa Ana and Fullerton experience DUI and domestic violence arrests day or night, workdays or holidays. Big cities have little details surrounding the bail bonds process. There are questions about how long it takes to post bail for a holiday or weekend. Residents are also curious about the difference between posting bail at a county jail or a city jail. Most important, people want to know how a skilled bail bondsman can help with processing bond paperwork quickly and affordably anytime day or night.
Barbarian Bail Bonds has recently launched a new blog integrating three of the most populous cities in Orange County: Santa Ana, Anaheim and Fullerton. Information about posting bail, jail release and 24 hour emergency bail bonds services is now easy to access. Locals and visitors to the Orange County area can have a professional bail bondsman visit the home or hotel to complete paperwork day or night. Doorstep service from an expert bondsman is efficient, non-stressful and affordable when DUI arrests happen on holidays or any other day.
About Barbarian Bail Bonds
Barbarian Bail Bonds is Southern California's top-rated bail bonds service. With offices in Orange County, San Bernadino County, and Riverside, the company's bail bond agents are convenient to clients anywhere. Whether a client is looking for Fullerton bail bonds or Bail Bonds in Santa Ana, services are available. If the search is for affordable (even cheap) bail bonds in Anaheim, Barbarian Bail Bonds has agents that will travel to the residence to process bail bond paperwork. The company offers 24/7, emergency bail bonds home services and can explain how the bail bond process works.
Web. http://www.barbarianbb.com/