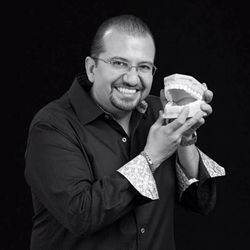 Orange County, CA (PRWEB) July 07, 2016
OC dentist, Dr. A. Rassouli, now offers comprehensive Invisalign treatments for patients of all ages. Invisalign is a state-of-the-art orthodontic treatment that uses specially designed thermoplastic aligners rather than the brackets and wires of traditional braces. Dr. Rassouli is a top Invisalign dentist who has been named a Premier Preferred Provider. He is highly sought after for his skilled treatment and his ability to use Invisalign to treat many different types of malocclusions.
Types of Invisalign offered by Dr. Rassouli include:

Aligners are designed to move teeth incrementally over the course of treatment until each tooth is in its predetermined position for a properly balanced and aesthetically appealing smile.
This treatment works just like classic Invisalign, but includes additional teen-friendly features, such as the Blue Dot indicator to let teens know when to move to the next set of aligners and eruption tabs to accommodate growing jaws.
Invisalign Express is ideal for those with minor alignment issues or those who are candidates for smile makeovers, as it works in a fraction of the time required by traditional orthodontic treatments.
Vivera retainer is designed for use after Invisalign to keep the teeth in their proper positions.
Dr. Rassouli has been named an Invisalign Premier Preferred Provider every year since 2011. In order to receive this prestigious title, Dr. Rassouli completed specialty training in the Invisalign system and demonstrated a significant level of expertise in treating patients and a variety of cases. He completes numerous cases annually and has extensive before-and-after pictures of satisfied patients.
Other treatments are also available, including same-day crowns, dental implants, root canals, oral surgery, restorative dentistry, periodontal treatments, TMJ treatments, sleep apnea treatments, traditional teeth whitening, Zoom whitening, and porcelain veneers. Dr. Rassouli has dental sedation available for patients who suffer from dental anxiety or phobias or for those who simply prefer a more relaxed dental treatment experience.
About Dr. Rassouli
A native of the Orange County area, Dr. Rassouli is a graduate of the University of Southern California. During his time at USC, he served on the school's Accreditation Committee, and after graduation, he served on the school's prestigious Century Club, an organization dedicated to continuing education. Together with his brother and partner, Dr. Rassouli cofounded the South Coast Dental Academy. The South Coast Dental Academy enables Orange County-area dentists to stay abreast of the latest advances in dental technology and the most advanced procedures and products.