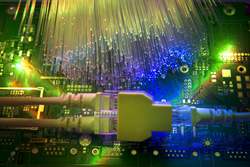 Solveforce Offers Real-Time Quoting Tool for OC3 Bandwidth service Effective Immediately
Dallas, Texas (PRWEB) November 05, 2015
Solveforce has been developing their OC3 Bandwidth service (http://oc3.bandwidth.us.com/) over the last several months and the team is ready to roll it out to all Dallas, Texas commercial locations.
Are T3 and OC-3 equivalent?
No, not really. T3 is the "big daddy" of the T-carrier system. T3 is copper wire based, although using coaxial cable rather than pairs of phone wires to support the higher speed.
OC-3 is another animal entirely. It is part of the Optical Carrier (OC) levels defined for a fiber optic transmission system called SONET (Synchronous Optical Network). OC-3 runs at 155 Mbps verses T3 at 45 Mbps. That's a big difference in speed and cost.
OC-1 service is the equivalent of DS3 or T3. It provides 672 voice channels (or 64K data channels) and runs at 52 Mbps to include the extra bits needed for the optical service. The highest OC3 Bandwidth (http://oc3072.bandwidth.us.com/) level available at present is OC-768 which runs at 39,512 Mbps or about 40 Gbps (Gigabits per second).
In recent years, a newer technology called Carrier Ethernet has started replacing both T1 lines, DS3 and SONET OCx fiber. Ethernet over Copper (EoC) uses the same twisted pair wiring at T1 and is available from 2 to 45 Mbps. Ethernet over Fiber (EoF) is highly scalable in the range from 10 Mbps to 10 Gbps, with 100 Mbps and Gigabit Ethernet being very popular service levels. Ethernet is far more scalable than earlier technologies and enjoys a cost advantage as well.
About Solveforce
We are committed to you in every aspect of the customer relationship. If you need to contact us for any reason, please, don't hesitate to call or email us at your earliest convenience. We will do all in our capacity to respond to your OC3 Bandwidth (http://oc768.bandwidth.us.com/) inquiry immediately.
By Phone: (888) 765-8301
By Email: ron (at) solveforce (dot) com
Website: http://solveforce.com