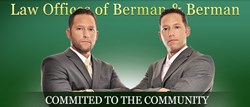 Ocala, Florida (PRWEB) February 05, 2014
The Berman Law Group is announcing a brand new legal consultation service for the Ocala, Florida, area. In it they will offer all injury accidents a consultation with a qualified legal consultant to address their issues at hand. The personal injury lawyer consultation is available to all citizens of the Ocala area who are in need of help, whether they have been injured in a car accident, a job place accident, or some other type of injury.
The Berman Law Firm is available to help all people who they deem to have a case worth fighting for. They are committed to the community of Ocala, Florida, and will fight for their clients' rights and justice in court if necessary. They are very successful at getting justice on their clients' behalf and have won these types of cases in the past: personal injury cases, wrongful death, product liability, workers compensation, auto accidents, motorcycle accidents, workplace accidents, family law, criminal law, toxic torts, spinal cord injuries, traumatic brain injuries, burns, amputations, and more. The goal of the Law Offices of Berman and Berman in offering the free consultation to all of Ocala, Florida, is to help people who would not be able to get legal advice or services that they may desperately need.
The Berman Law Firm is qualified to handle many types of cases, including pharmaceutical cases, where people have been allegedly harmed by drugs they have been taking. Some of the drugs that they have won justice for are Yaz/Yasmin/Ocella, Mirena, Pradaxa, Granuflo, Byetta/Januvia/Victoza, NuvaRing, Propecia, Paxil, Zoloft, Zocor, Crestor, Avandia, Accutane, and many others. If you feel that you have been harmed by any of these drugs, please give a call to the Berman Law Group at 1-877-529-8995. They are available 24 hours a day and seven days a week to assist potential clients with any questions they may have.
The Berman Law Group has offices in Boca Raton and Stuart, Florida, but is able to serve the area of Ocala, Florida. They have a large team and network of lawyers throughout the state of Florida and are committed personal injury lawyers who care for their clients and the community.
To learn more about the new Ocala injury lawyer consultation, call them locally at (352) 433-0385 or call their Florida hotline at 1-877-529-8995. Anyone interested can also visit their website at http://personalinjurylawyerocalafl.com to fill out the consultation form and get a call back to discuss their options for justice.