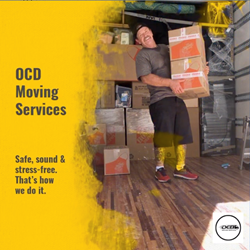 SAN FRANCISCO (PRWEB) December 17, 2019
The holiday season isn't as popular for moving as the summer season is, some people find it hard to avoid moving during the winter season. Moving during the holidays can be a challenge for many reasons. For that reason, OCD Moving Services—a top local and long-distance moving service in the Bay Area—is offering tips to help those who can't avoid moving during the holidays complete their move as stress-free as possible.
"We know how stressful the holiday season can be for people, especially if they're planning a move on top of everything they have going on," says Daniel England, owner of OCD Moving Services. "We want those customers who are planning holiday moves to know we are here to help. In the meantime, OCD Moving Services Bay Area offers tips for staying sane during a holiday move for those who have a lot on their plates this season."
Between shopping and cooking for the holidays, spending time with family, holiday parties, and more, attempting to plan a move during the holidays can be a stressful task. OCD Moving Services recommends starting early and being as organized as you can to save yourself extra stress while planning a local move in the Bay Area during the holidays. To help those who are planning a local or long-distance move in the Bay Area this holiday season, OCD Moving Services has provided the following tips to help make your holiday move as successful as it can be.
Get Organized And Start Early
The key to planning a stress-free move during the holidays is to get organizes and start as early as you can. Generally, it's good practice to start packing a few weeks before your move date. If you're hosting a holiday get-together, designate a room or area where you can start storing all of your packed boxes. If you have a garage, you can begin storing packed boxes there, or an extra room works just as well. When you start packing, it's best to pack those items that you don't access every day first, such as books, special cooking wear, summer clothes, etc.
Hire A Bay Area Mover
A professional Bay Area moving company is going to help you immensely while planning your local or long-distance move. Some companies, like OCD Moving Services, can even help with packing, junk removal services, and also moving extra-heavy items, like a grand piano.
Decorate as Little As Possible
The holidays are the most festive time of year, so that doesn't mean you shouldn't decorate at all. However, depending on how close your moving day is to Christmas, you may want to wait to decorate until you get to your new home. To cut back on how many decorations you'll have to pack and unpack, try just decorating with lights or tinsel. You can still bring Christmas cheer to your home without unpacking all the decorations you own.
Don't Unpack Everything After You Move
If you're moving right in the middle of the holiday season, don't stress yourself out trying to unpack all of your boxes as soon as you arrive in your new home. You'll have plenty of time to unpack after the holidays, so take your time and put up some decorations to brighten up your new home and take time to enjoy the holidays.
If you're planning a local or long-distance move during the holidays, call OCD Moving Services for a free consultation.
About OCD Moving Services
For more than five years, OCD Moving Services has served as a top-rated Bay Area mover helping individuals and businesses move. The experts at OCD Moving Services have the necessary experience to help you plan and execute a successful move. From providing home moving services to packing, short-term storage, junk removal services, and moving supplies, to helping you and your belongings get from point A to point B, OCD Moving Services can handle it all. For more information, visit http://www.ocdmovingservices.net or call 510-375-3844 for a free quote.
OCD Moving Services provides professional moving services in the following areas:
San Leandro, CA
San Ramon, CA
Dublin, CA
Pleasant Hill, CA
Orinda, CA
Lafayette, LA
Moraga, CA
Alamo, CA
Clayton, CA
Concord, CA
Martinez, CA
El Cerrito, CA
Kensington, CA
Albany, CA
Emeryville, CA
Piedmont, CA
Sausalito, CA
Mill Valley, CA
El Campo, CA
Tiburon, CA
Corte Madera, CA
Paradise Cay, CA
Larkspur, CA
San Rafael, CA
San Anselmo, CA
Novato, CA
Vallejo, CA
Pinole, CA
Benicia, CA
American Canyon, CA
Napa, CA
Napa Valley, CA
Brentwood, CA
Blackhawk, CA
Livermore, CA