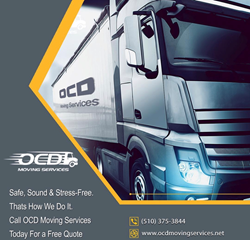 SAN FRANCISCO (PRWEB) April 29, 2019
As a living, eating, and breathing citizens, humans produce an exorbitant amount of trash every single day. In fact, according to the U.S. Environmental Protection Agency, in 2013 alone Americans generated approximately 254 million tons of trash. Of that 254 million ton of trash, only 87 million of it was recycled and composted, equivalent to about 34.3%.
OCD Moving services understands that it's hard not to produce trash every day. Because people are consuming so much more in the thriving economy that is California, that leads to more trash being produced. With that in mind, it's imperative that everyone does our part to help the planet. As citizens of this planet, humans aren't doing the right thing by dumping batteries, electronics, furniture, and many more items that could be properly recycled. But many people just might not know what to do with these items. And dumping them in the regular trash can, or on the side of the road, is incredibly damaging to this planet that is already at risk.
OCD Moving Services is dedicated to helping the environment by being the number one eco-friendly junk removal service in the Bay Area. Junk removal is one of the most important services that OCD Moving Services provides to make life less stressful, especially when moving – a time when most people will get rid of a lot of items they don't plan to take to their new home. OCD Moving Services understands how frustrating dealing with unwanted items can be, especially when in the middle of a big move and those items that are taking up unnecessary space are just wanted out of sight and out of mind. But this planet is not to be disregarded when simply trying to downsize a home.
OCD Moving Services values and respects this planet Earth, and they know how essential it is to be ecologically responsible. Therefore, they are excited to reveal they have expanded their junk removal services to include electronic waste recycling, packing, unpacking, junk removal, and more. OCD Moving Services operates as the most comprehensive junk removal service in the Bay Area. They are equipped to take all unwanted furniture and dispose of it in an eco-friendly matter. They can also remove and recycle all electronics, unwanted appliances, old mattresses, and more.
If you are moving, cleaning out your garage, remodeling, moving office spaces, or simply needing to get rid of any unwanted materials, OCD Moving Services can help. Their staff is trained to take the trash out and clean up after. You'll never even know the garbage was there.
Join OCD Moving Services in helping to protect our planet and give them a call today if you have any unwanted junk you'd like to dispose of in a proper, eco-friendly manner. OCD Moving Services is currently offering free consultations for prospective customers who are looking to get rid of unwanted furniture or any other waste removed in an eco-friendly way. OCD Moving Services takes pride in its comprehensive and efficient junk removal services. Call their Bay Area location today at (510) 375-3844.