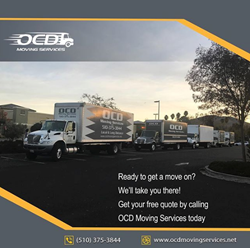 SAN FRANCISCO (PRWEB) November 25, 2019
As housing prices in the Bay Area continue to rise, local Bay Area movers OCD Moving Services understands that residents are looking for efficient and affordable moving options. The expert Bay Area movers at OCD Moving Services are currently offering free consultations to new customers looking to hire local Bay Area movers. The professionals at OCD Moving Services have been in business for more than five years and know what it takes to help their customers move successfully.
"We have been helping residents in the Bay Area move for over five years," said OCD Moving Services owner Daniel England. "We know the level of service that Bay Area residents demand, and our team is equipped to deliver."
The professionals at OCD Moving Services offer a range of services, from full-service options that include packing, to in-house moves, short-term storage, junk removal, and more. Previous OCD Moving Services customers have found their moves to be comfortable and stress-free when working with OCD, which is why they consistently receive high customer reviews. The professionals at OCD understand that moving homes is an essential step in life, especially if a resident is moving out of a home because it's become too expensive. When times get hard, and it's time to go, OCD Moving Services is there for its customers time and time again.
In addition to providing local Bay Area moving services, the professionals at OCD Moving Services are also committed to minimizing their environmental impact when it comes to the materials they use for packing. For that reason, OCD Moving Services only uses 100 percent recyclable cardboard boxes when packing up a customer's home. Also, OCD Moving Services offers customers a junk removal service, in which they dispose of unwanted items in a safe and eco-friendly way. When customers work with OCD Moving Services, they do so with the understanding that they are getting the best, most dedicated local movers on their side.
If you live in the Bay Area and are looking for local Bay Area movers to help you with your transition, call the professionals at OCD Moving Services today for a free consultation. Learn more by visiting http://www.ocdmovingservices.net or by calling 310-375-3844.
About OCD Moving Services
As one of the top movers in the Bay Area, OCD Moving Services' mission is to be the best of themselves in every situation. When they are hired to do a job, they give it everything they've got. The individuals who work for OCD Moving Services are passionate about providing a positive moving experience for their customers. To request a free quote, visit http://www.ocdmovingservices.net, or call 510-375-3844.