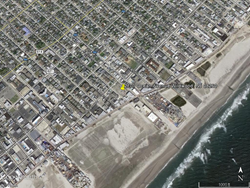 Wildwood, NJ (PRWEB) July 28, 2015
Near the southern tip of New Jersey in the town of Wildwood -- the TripAdvisor #1 US Destination on the Rise -- is a prime slice of development land right on the beach, and it will be auctioned at the end of August. The property in question is located at 2701 Ocean Avenue in Wildwood, New Jersey (zip: 08260); it straddles Ocean Avenue and the boardwalk separating the property from the beach. It is also within walking distance to Surfside Pier.
Currently, the property is a parking lot with approvals for 64-unit condo/apartments/hotel. There is also approval for a 23-story high rise, with 16 units per floor. Another possible development could be created with four low-rise buildings two stories above parking that would each consist of 15 units per building for a total of 60 units. Needless to say, many amazing opportunities are available for this great location.
Micoley.com CEO Wade T. Micoley considers the property one of the company's most exciting: "I simply cannot wait to see what a developer does with a property with these kinds of possibilities in this type of location; I must admit I have been hovering over this particular property like an expectant father. This kind of prime commercial real estate just doesn't open up often, especially right on the beach in the most densely populated corner of the country. This really is a wonderful opportunity."
Wildwood is a resort city that can see its population swell past 250,000 during the summer months. It is a historic city, as; in 1954, Bill Haley & His Comets performed "Rock Around the Clock," one of the very first rock & roll songs, for the first time during Memorial Day weekend at the Hofbrau Hotel.
This property is listed at $4,695,000 with an opening bid of $2,995,000 if no offer is received before the August 29 auction.
The highly motivated sellers of this property have indicated that they plan to entertain early bids and offers. Buyers are most likely already researching this property, and coming to decisions about whether to make a purchase, so potential buyers are advised to act fast.
Interested parties should visit micoley.com to find more photos and details about the property, or visit in person and perform an inspection on site, which is highly recommended. (866) 371-3619 is Micoley.com's information line. Additionally, Micoley.com features a live chat service through which questions can be answered.
About Micoley.com.
Green Bay, Wisconsin-based Micoley.com is a real estate marketing firm specializing in project focused auctions and sales events of bank-owned and traditionally listed Real Estate throughout the United States. The Micoley.com approach to Real Estate marketing tailors each auction plan to the client's individual needs. The site is constantly being updated for the benefit of buyers, as large-scale auction events are held quarterly, and new properties are added daily.