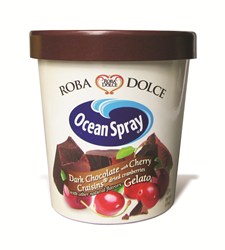 The Ocean Spray® brand conveys excellence and value. Ocean Spray has recognized that the Roba Dolce product also reflects those attributes, and proudly put their name on this extraordinary new line of gelato and sorbet. -Roba Dolce CEO, Matt Olerio
Providence, Rhode Island (PRWEB) July 16, 2013
Roba Dolce announced today the company's newest line of all natural, high quality dessert offerings Ocean Spray® premium pints of gelato and sorbet. This co-branding partnership offers a genuine new energy and innovative flavor profile to the super premium frozen dessert space in the form of exciting gelato and sorbet products from two trusted brands.
"We could not be happier to announce our Ocean Spray® program to the trade and consumer. Millions of consumers trust Ocean Spray® for the greatest taste when it comes to their juices and other fine products. Their brand conveys excellence and value. Ocean Spray has recognized that the Roba Dolce product also reflects those attributes, and proudly put their name on this extraordinary new line of gelato and sorbet," said Roba Dolce CEO, Matt Olerio. "Together, Ocean Spray® and Roba Dolce symbolize a new standard for this category – and we expect that the discerning consumer, looking for the best taste and selection, at an affordable price, will reach for the brand they already trust and buy: Ocean Spray®." Ocean Spray Brand Marketing Director Kristen Borsari is "…thrilled with these delicious desserts and excited to bring the Ocean Spray® brand to the frozen aisle."
The Ocean Spray® & Roba Dolce portfolio includes nine individual pint offerings, five sorbets and four gelatos, with additional flavors already in development. Each flavor was carefully selected to bring out the very best of both brands. Gelato flavors include: Dark Chocolate with Cherry Craisins® Dried Cranberries, Honey Fig Cream, Vanilla Bean with Chocolate Pomegranate Truffle, and Hazelnut Truffle. Sorbet flavors include: Cranberry Raspberry Lime, Lemon Blueberry, Tropical Coconut, Blackberry Cabernet and Tropical Mango.
Roba Dolce's line of Ocean Spray® Premium Pints is available for sales and distribution effective immediately. Inquiries regarding additional information or where to purchase these products can be sent to sales(at)robadolce(dot)com.
About Roba Dolce
Founded in Rhode Island in 2005, Roba Dolce Inc. had a dream of creating the most authentic Italian gelato and sorbet in the New World. Beginning with two small gelatorias in Providence and Newport, we used traditional recipes, imported Italian equipment and made our gelato in small batches. Our loyal customers from Rhode Island and tourists from all over the United States kept coming back for more. This response was so overwhelming that we decided to package our product for everyone to enjoy. Today we are proud to produce a vibrant, smooth and creamy dessert with a full flavor that will leave your taste buds energized. In April 2006, Roba Dolce began servicing just five local supermarkets - today we package and distribute to supermarkets nationwide, producing gelato and sorbet as private label and in the Roba Dolce brand. We recognize that this can only happen with hard work, a commitment to keeping our customers satisfied and a true passion for what we do. So discover your passion for gelato, the Roba Dolce way.
About Ocean Spray
Ocean Spray is a vibrant agricultural cooperative owned by more than 700 cranberry and grapefruit growers in the United States, Canada and Chile who have helped preserve the family farming way of life for generations. Formed in 1930, Ocean Spray is now the world's leading producer of cranberry juices, juice drinks and dried cranberries and is the best-selling brand in the bottled juice category. The cooperative's cranberries are currently featured in more than a thousand great-tasting, good-for-you products in over 50 countries worldwide. With more than 2,000 employees and nearly 20 cranberry receiving and processing facilities, Ocean Spray is committed to managing our business in a way that respects our communities, employees and the environment. In fiscal year 2012, Ocean Spray posted record-high gross sales of $2.2 billion and net proceeds of $338 million.
For more information visit http://www.robadolce.com or call 1-855-6GELATO.
http://www.facebook.com/robadolcegelato