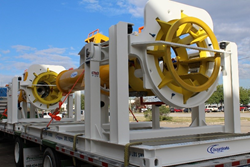 SMM ready to move by ground
Burnaby, British Columbia (PRWEB) March 06, 2015
OceanWorks International has designed and recently delivered the Static Mixer Module (SMM) Handling Aid to Marine Well Containment Company (MWCC) as part of the OceanWorks designed Subsea Dispersant Fluid System (SDFS).
The delivery of the Static Mixer Module Handling Aid is significant as it allows for the safe handling and storage of the SMM, which itself enables dispersant to be injected directly at a wellhead in the event well fluids are released. Given the height of the SMM (17ft) in the upright position and its elevated center of gravity (CoG), it must be in the horizontal position (Figure 1) for road transportation; and pivoted to the vertical position in the Handling Aid (Figure 2) when being loaded onto a vessel for sea transport. OceanWorks took these unique transportation requirements into account in the design of the SMM Handling Aid.
OceanWorks International is a subsea solution engineering company, providing over 20 years of service to the Oil & Gas, Military, Scientific, and Environmental markets. Offering a full range of subsea system engineering, design and analysis, fabrication, testing, and project management services, OceanWorks has been at the cutting edge of subsea engineering design, deep submergence and diving technology, operations, and support and we look forward to providing subsea engineering solutions to our customers for years to come.
For more information regarding OceanWorks International's products and services visit our website, http://www.oceanworks.com, or contact us at marketing(at)oceanworks(dot)com.