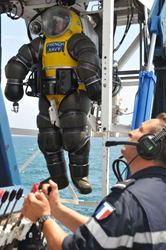 Vancouver, BC (PRWEB) June 30, 2016
OceanWorks International has completed a major survey and overhaul of the French Navy's HARDSUIT™ ADS. The work was contracted to OceanWorks by ECA Robotics who maintains the HARDSUIT™ ADS for the French Navy.
The HARDSUIT™ ADS, initial delivered to the French Navy in 1991, is designed for a service life of up to 25 years. The recently completed overhaul will ensure the continued use of the HARDSUIT™ ADS by the French Navy in meeting its Submarine Rescue Intervention requirements.
Upon receiving the HARDSUIT™ ADS, OceanWorks technicians first dis-assembled the suit and completed a thorough inspection. The next step involved the replacement of internal parts such as O-rings, Teflon seals, and other items before the HARDSUIT™ ADS was then re-assembled and put through full functionality testing as well as hydrostatic testing to 1.4 times its operational depth. A new suit would be subject to a very similar testing regimen which is a clear indication of OceanWorks emphasis on high quality standards in all facets of its manufacturing and testing processes.
OceanWorks International is a subsea solution engineering company, providing over 20 years of service to the Military, Scientific & Environmental, and Oil & Gas markets. Offering a full range of subsea system engineering, design and analysis, fabrication, testing, and project management services, OceanWorks has been at the cutting edge of subsea engineering design, deep submergence and diving technology, operations, and support and looks forward to providing subsea engineering solutions to its customers.
For more information regarding OceanWorks International's products and services visit our website, http://www.oceanworks.com, or contact us at marketing(at)oceanworks(dot)com.