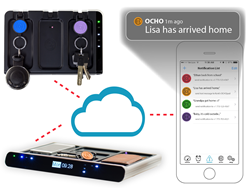 OCHO eliminates the guesswork of trying to keep track of your things, your loved ones and your life.
Chicago, IL (PRWEB) March 24, 2014
OCHO, Inc. has introduced the OCHO NFC smart key tray, a web-connected device that improves everyday life by communicating customizable messages and reminders to and from loved ones. OCHO technology connects common items people rely on everyday, such as keys, phones and wallets, to notifications that help organize time and their daily routines. The system will be available for pre-order on Kickstarter on March 26.
"OCHO eliminates the guesswork of trying to keep track of your things, your loved ones and your life," said company CEO, Donatus Leung. "OCHO is designed for people who want to simplify their lives. And unlike other electronic tracking tags, our OCHO system uses NFC technology which means there is no battery to charge or replace and the tags last forever!"
The entire OCHO ecosystem consists of the OCHO Pad, a tray that holds wallets, phones and keys; the OCHO Mini, a smaller tray made predominantly for keys; OCHO tags, NFC stickers or keychains that attach to ordinary items to make them recognizable to the system; and the OCHO app, a mobile interface for the system that allows parental controls for accessibility.
OCHO tags are colorful and uniquely identifiable, and they can be applied to anything, whether a keychain, a wallet, a phone or any item someone wants to track. Each time an OCHO tag touches the tray, it reads the tag ID through NFC technology, records the check-in time, stores the information and sends this data to the cloud. The tray also checks the cloud-based database to see if any actions have been set for a specific tag. If a user does not want to apply an NFC tag to an item or a phone without NFC technology, he or she can simply use the infrared sensors on OCHO Pad to recognize items.
The OCHO app, which will be available for iOS and Android phones and tablets, enables users to set specific actions for each tag. Actions can include issuing reminders, sending a message to a loved one, or simply tracking time. OCHO has a multitude of capabilities to make everyday communication between households, families or roommates simple and easy.
OCHO Pad can be used to automate reminders for children or loved ones to do daily chores. For example, when a child arrives home from school and places his or her keys on the OCHO Pad, the system sends a reminder to her phone that says, "Welcome home! Remember to take out the trash. Love, Mom." No longer worry about catching kids with the right message at the right time during a busy work day because the process is automated. Similarly, users can also set OCHO to send push notifications to their phones to notify them when a loved one places their keys on the OCHO Pad at home. They will know when their loved ones arrived home safely without having to ask.
Not only is communication a key aspect of the OCHO system, but reminders to complete daily tasks help ensure that basic necessities are completed. OCHO allows users to push automated notifications to smart phones for this purpose. It can be set to notify certain people if a phone is not plugged in by 11 p.m. or a wallet is not on the tray at 11 p.m. The morning scramble is less of a hassle because OCHO ensures that all items are put in their proper places beforehand.
The OCHO Pad will launch on Kickstarter with a funding goal of $35,000 to help cover costs of the first production run. Pre-order pricing begins at $38 for the OCHO Mini and $68 for the OCHO Pad. These are early bird prices, so they are available in limited quantities. Once the early bird systems are all purchased, the Mini will cost $58 and the Pad will cost $88. Combinations and larger packages will also be available.
For more information about OCHO Pad and to stay up to date with the campaign up before the Kickstarter launch, visit the website at http://www.ochopad.com. Also follow OCHO Pad on Facebook.
ABOUT OCHO, Inc.
OCHO, Inc. is a US-based technology and engineering company. The OCHO engineering team has been involved with RFID product development for more than 10 years. The company focuses on development of new technology, intellectual protection of their inventions through the patent process and manufacturing through a network of overseas partners as well as sales and marketing of their products in USA. For more information visit http://www.ochopad.com.