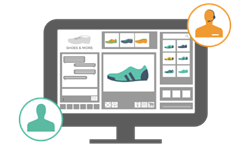 "We were impressed with oct8ne's service and are looking forward to implementing it on our site with the new API..." Brian Welch, Director of Marketing and Operations, Superherostuff.com
Barcelona, Spain (PRWEB) April 21, 2015
All eCommerce companies can now directly integrate oct8ne and its Coviewing technoglogy into their custom built websites for a richer customer engagement experience. The API will integrate the site's search, product database, and online shopping functionality including favorites, account creation and shopping cart during an oct8ne sales session. The oct8ne solution was previously available only on the Magento eCommerce platform.
The new API allows oct8ne to extend its services to any eCommerce platform, regardless of the language, technologies, or frameworks on which they are based. It provides a simple interface to build personalized adapters for any site, enabling the distinctive components of oct8ne to seamlessly integrate with said site. The API uses standard protocols and technologies and is well documented with thorough instructions, making it easy for any company to develop its own adapters. "We were impressed with oct8ne's service and are looking forward to implementing it on our site with the new API that makes it available for custom-built sites like ours," Brian Welch, Director of Marketing and Operations, Superherostuff.com
oct8ne's proprietary coviewing technology allows eCommerce companies to provide customers with a personalized in-store experience. Agents and customers view and search for products together, creating opportunities for increased sales as agents upsell and cross-sell in real-time. Unlike traditional live chat services designed to provide customer service, oct8ne equips agents with tools to engage in personal selling while providing product expertise. Post-visit sales intelligence and analytics allow companies to continuously optimize their sales process.
This development represents a major move by the company to expand oct8ne's offering to all eCommerce sites as well as any website. "The API is an important milestone for our company." said Tim Kunihiro, CEO of oct8ne. "oct8ne has been so well received by Magento customers that the obvious next step was to enable it for companies regardless of the platform they had chosen."
oct8ne also announced the designation of José Maria Aguilar, Microsoft MVP, as CTO. José Maria is an expert in real-time technology, having written the book for Microsoft on Signal R ("SignalR Programming in Microsoft in ASP.NET," available at Amazon), the technology that the oct8ne solution is based on. "I'm excited to be a part of a project that can truly change online sales methods by using real-time communication," said Aguilar. Jose Maria had already been acting as a consultant for the year prior to his designation as CTO.
oct8ne is a Gold Sponsor at the Magento Imagine Commmerce conference in Las Vegas, April 20-22. Attendees can stop by booth #215 to learn more.
About the Company:
oct8ne is a privately held company based in Barcelona, Spain and the USA, that specializes in real-time, SaaS solutions using its proprietary coviewing technology. The eCommerce application allows agents and customers to view and search together, creating an in-store shopping experience online. Learn more and request a live demo at http://www.oct8ne.com