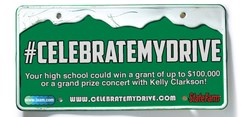 Safe driving is a life skill that motivates teens to be responsible for their own destination to success. - Founder and CEO, Malini Hoover, of iaam.com
Albuquerque, NM (PRWEB) October 23, 2013
Safe driving matters to iaam.com. Teens driving safely is an important part of the destination to success, especially knowing that car crashes have killed nearly five times as many teens as cancer or poisoning, according to 2012 Miles to Go Report. For more than 30 years, car crashes have been the leading cause of death among teens and the goal of Celebrate My Drive is to raise awareness. College and teen bloggers, and iaam interns want to be part of the campaign reversing this trend.
StateFarm and Kelly Clarkson have teamed up to launch the Celebrate My Drive campaign online, helping new drivers in a positive and supportive way. US and Canadian high schools have a chance to win grants worth up to $100,000 as well as a chance to win 1 of 2 Kelly Clarkson concerts!
WHAT IS HAPPENING NOW?
During Teen Driver Safety Week, October 20-26, teens can make a safe driving commitment on behalf of their local high schools by going to celebratemydrive.com once a day, every day, now through the 26th.
-- The TOP 50 high schools with the most safe driving commitments in the (small/large) school category will be awarded State Farm grants ranging from $25,000 to $100,000 and the top school in this category could also win a private concert by Kelly Clarkson! Check online to see where schools are currently ranked.
-- Remember: Teens can commit to be safe drivers once daily until October 26, 2013.
The more safe driving commitments on behalf of a school, the better the chance to win $100,000 and host the Kelly Clarkson concert.
In support of Teen Driver Safety Week, October 20-26, 2013, iaam is empowering its followers on social media with tips to buy a used car, a photo challenge, and quite possibly, a celebrity hangout! iaam is doing everything possible to encourage safe driving safe driving habits in fun, positive and engaging ways. Remember, this is a community celebration online and offline. It is where safe driving habits, the benefits of safe choices, and new drivers can come together and celebrate a memorable milestone.
| ABOUT iaam.com |
The Teen Entertainment & Life Skills Multimedia Network emphasizes life skills and entertainment for young adults, providing information on money, college, career, and success written by teenagers across U.S. The mission of the teen magazine is 'Success for Teens by Teens'. It successfully provides a platform for students to develop leadership, career and communication skills. Our national student internship and ambassador programs have helped numerous students to land scholarships, admission to top colleges, internships and jobs in media, marketing and communication.
Additional media inquiries, please contact
Wena Lee Luansing via email at rml.wena(at)gmail(dot)com or call (619) 708-5551.
###