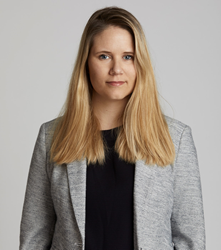 "I wish to thank Sara for her significant contributions to Odd Molly, Patrik Tillman, chairman of the board, said in a statement. "I am pleased to see this succession in leadership as Sara transitions to an advisory role and begins a new phase of her career."
NEW YORK (PRWEB) July 19, 2019
Sara Fernstrom is stepping down from her day-to-day role as Co-CEO of the Swedish based retailer, Odd Molly, the company announced the change during Q1 report.
Fernstrom will remain in an advisory role, spending approximately half of her time on Odd Molly and the other half on other pursuits. She is already a majority owner of Lyft Brands Group, backing several emerging brands and is likely to continue mentoring while taking a more active role in LBG pursuing new brand acquisition opportunities.
At Odd Molly in Sweden and its international sister companies, which she also oversees, Fernstrom will be replaced by Johanna Palm, who currently serves as CFO of the company to take on a more encompassing role in the business operations as Co-CEO. According to a release, Fernstrom will stay on to help the company finalize additional new territory operators the company claims are under way and will work closely with the Chairman of the Board to have those successfully completed.
Fernstrom, who moved to Sweden in early 2018, to help the company through a successful turnaround, quickly realized that the current business structure as a whole was too complex and needed to be adjusted for an ever-accelerating market. Fernstrom lead the initiative to convert the global distribution and successfully converted several markets into a licensed model including Spain, Portugal, Germany, Austria, Czech Republic, Slovakia, Hungary. She believed that by simplifying its business structure and focusing on what it does best; design, marketing and ecommerce, the company would allow local partners to excel, who are sales experts in their respective markets while allowing the company to penetrate more markets through e-commerce.
While at Odd Molly, Fernstrom lead the realignment of distribution worldwide and increased focus on strengthening brand equity. In line with this strategy to ensure continued strong position and physical presence of the brand, Odd Molly opened new stores in NK and El Corte Ingles department stores both operated by external partners
Fernstrom also created a new brand management structure within the company in to oversee this new business model, ensuring Odd Molly supplies its licensees with all the tools they need to succeed and build brand equity within their territory that fit into Odd Molly's standards in retail and marketing.
"This is an exciting time for Odd Molly and for me personally," Fernstrom said in a statement. "I am proud of having created a better structure for this company, this brand and this culture. My new role will allow me to provide mentorship and advice to the team at Odd Molly and will also give me an opportunity to pursue other interests and passions within and beyond the industry. I am grateful to Patrik Tillman for the leadership and support he has shown to me during my time at Odd Molly"
"I wish to thank Sara for her significant contributions to Odd Molly, Patrik Tillman, chairman of the board, said in a statement. "I am pleased to see this succession in leadership as Sara transitions to an advisory role and begins a new phase of her career."
Odd Molly is a progressive lifestyle brand that epitomizes the California lifestyle with a Scandinavian twist. The brand offers a large assortment of products from women's apparel, accessories, and outdoor collections.
Fernstrom, a retail vet with 15 years of experience in apparel, beauty, and home goods, started as an agent at Creative Artists Agency and United Talent Agency before becoming CEO of Lyft Brands Group in 2015. She was brought into Odd Molly as a key figure, along with Leeor Vaserman, a former employee of LBG with 7 years of licensing and brand management experience; to develop a global omni-channel business, readjust the business model to a digital focus, strengthen brand equity and refocus brand DNA message, and create international expansion opportunities in all channels.
Moving forward, Fernstrom will continue to advise Odd Molly on all international business and activities and see through several more licensing deals before the end of the year. During this time, she will return to Lyft Brands Group, a licensing and brand management company, that is working on several potential new acquisitions.