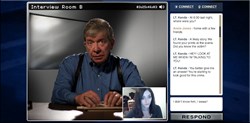 Though the experience is virtual; Kenda's mannerism, attitude, and moral driving force shine through.
New York, NY (PRWEB) October 03, 2013
Investigation Discovery Network just launched a novel web experience, dubbed "Number One Suspect" which subjects users to interrogation by Lt. Joe Kenda, a 25-year veteran homicide detective, and a star of his own TV show, Homicide Hunter. In this web application, users can now fully experience what it is like to be interrogated by a real life no-nonsense police detective.
Oddcast, a NYC media firm, was tapped by Investigation Discovery to produce the novel concept. "Though the experience is virtual; Kenda's mannerism, attitude, and moral driving force shine through," said Gil Sideman, CEO of Oddcast. "The user is exposed to Kenda's personality, and learns what it must feel like to be under his gaze."
In Number One Suspect, the user is a suspect in a murder case. Joe Kenda, the detective on the case, conducts the interrogation. Lt Kenda asks the user a series of questions to test their truthfulness and integrity. Users type in their responses. By using the user's webcam Lt Kenda can verify they are focused and taking the interrogation seriously. Drawing information from Facebook and comparing it to the user's responses allows Lt Kenda to go a step further and establish the user's credibility. The app also displays a list of friends for the user to implicate in the investigation. Finally, a mug shot is taken to be shared with friends or posted online.
Whether you are guilty or believe yourself to be innocent, put yourself to the test and start the interrogation: NumberOneSuspect.com.
About Investigation Discovery
Investigation Discovery (ID) is the leading mystery-and-suspense network on television and America's favorite "guilty pleasure." From harrowing crimes and salacious scandals to the in-depth investigations and heart-breaking mysteries that result, ID challenges our everyday understanding of culture, society and the human condition. Investigation Discovery is part of Discovery Communications, the world's #1 nonfiction media company reaching more than 1.8 billion cumulative subscribers in 218 countries and territories.
About Oddcast
Since 1999, Oddcast has pioneered some of the Web's most successful viral marketing applications (showcase). For marketers, ad agencies, and brands, Oddcast provides end-to-end service producing & hosting innovative Web & mobile applications, including detailed application metrics. Hundreds of leading brands and agencies have worked with Oddcast to create breakthrough social and participation media campaigns, designed to engage their target audience.