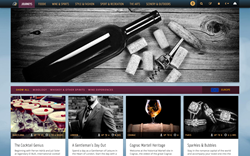 Luxury travel is now finally about people and authentic encounters, not just conspicuous spending
Barcelona, Spain (PRWEB) February 12, 2016
Tired of business as usual in European luxury & experiential tourism, serial travel entrepreneur Marc Mekki launches Ode to Joy, a new path to enriching, life-affirming and authentic travel & life experiences in Europe.
Foregoing the typical mass inventory approach, Mr Mekki and his team set out across Europe to seek out and engage local luminaries, facilitators and guides, small scale and deeply entrenched in their local culture, often with unprecedented insider access. Ode to Joy challenged these Storytellers to design a range of travel experiences, unique stays and journeys unlike any Europe has seen. These remarkable experiences are called Stories...
Some of the Story examples currently available on Ode to Joy:
Lunch in a secret Icelandic cave, accessible only by sea
Join a submarine research team in the search for Roman shipwrecks
Exclusive gourmet dining on the grass pitch of FC Barcelona
Visit Skellig Michael, the island featured in the last scene of Star Wars: The Force Awakens
Planned and operated by Ode to Joy, these short trips or longer journeys involve the highest calibre local partners, painstakingly sought out and selected from Europe's travel industry elite.
Guests are invited to browse, select and submit Stories and Journeys for further discussion and travel planning. Ode to Joy is not a live booking platform but a comprehensive concierge and travel planning company. All trips are operated by Ode to Joy, assisted by local partners.
Marc Mekki previously founded Mandarin Journeys, a luxury travel company based in Asia. He is a frequent guest at major invitation-only trade shows like ILTM, Pure, Connections and the Private Leisure Forum. In May 2016 Marc will be a guest speaker at the planned AMADEUS symposium in Dubai.
The full story of Ode to Joy's creation and origin can be found on Medium:
What Beethoven taught me about hope