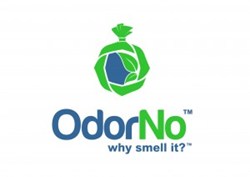 In the camping and outdoors industry, this product is an ideal resource for hunters, fishermen and all people with a shared love of the outdoors. - Jeff Bush, Senior Vice President of Sales and Marketing for Enerco
Cleveland, OH (PRWEB) August 08, 2013
OdorNo® (http://www.odorno.com), an innovative developer of safe, odor-barrier bags™, announces its exclusive multiyear agreement with Enerco Group Inc., to market a unique line of products for the outdoor recreation market under its BaseCamp™ Brand and alongside its market-leading Mr. Heater® Brand.
Under the terms of this agreement, BaseCamp™ Odor Barrier bags will be available to and will address the respective needs of the following groups and interests:

Retail and institutional Outdoors including: Camping, Hunting, and fishing.
The official name of BaseCamp™ Odor Barrier bags with multiple stock-keeping units (SKUs).
Global presence of BaseCamp™ Odor Barrier bags in multiple countries and cities.
"OdorNo® is an innovative brand with a product that, in letter and spirit, fulfills its mission: To eliminate, without harsh chemicals or additives, the foul scent of trash, pet waste, diapers and other debris. In the camping and outdoors industry, this product is an ideal resource for hunters, fishermen and all people with a shared love of the outdoors. We welcome this partnership and the advantages our customers will enjoy," says Jeff Bush, Senior Vice President of Sales and Marketing for Enerco.
"My passion for the outdoors - including camping, hiking, fishing, and being outdoors – has always been here and I share with my friends and family. With OdorNo® and this partnership with Enerco, we have an ideal union between two Ohio based companies joining the adventures of the outdoors with innovative technology that serves a simple purpose, not smelling things," says Garett Fortune, Founder of OdorNo®.
About OdorNo®
Based in Rocky River, OH with its emphasis on sustainability and personal convenience, OdorNo® redefines a critical area of consumer goods and commercial business. This innovative product line with its own patent pending technology completely contains the smells of daily life or malodorous items. Odor Barrier Technology® is a welcome addition to an industry where there is significant demand for positive change and innovative technology. To learn more about OdorNo, please visit http://www.odorno.com.
About Enerco
Enerco, based in Cleveland, Ohio has been at the forefront of infrared combustion technology since 1955. This market leading technology has allowed Enerco to build expertise in consumer heating products under its Mr. Heater brand as well as heavy duty and construction heating products under its Heatstar brand. Enerco's BaseCamp Brand was launched in 2011 to develop and deliver innovative products to the camping and sporting goods market.
Enerco is a proud Cleveland Corporation with over 120 dedicated employees and a 150,000 square foot manufacturing facility and a 170,000 square foot distribution facility. The manufacturing facility serves as the Corporate Headquarters and houses their extensive engineering and quality departments. For more information about Enerco, please visit http://www.mrheater.com