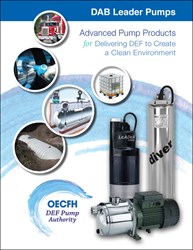 See us at the PEI Show October 13 - 15, 2013 in Atlanta, GA. We'll be at Booth #5221.
Spartanburg, SC (PRWEB) September 26, 2013
OEC Fluid Handling and DAB Water Technologies will be exhibiting the Blue Diver and Diver Series of submersible DEF electric pumps at the 2013 PEI Show in Atlanta, Georgia. DAB Water Technology pumps are fast becoming the standard pumps for the transfer of DEF from underground tanks and totes. Blue Diver Pumps are available in single phase 1/2, 3/4 and 1 HP models. The Diver Series of pumps provide higher flows and pressures and are available in 1 HP and 2 HP models.
If you are a specifying engineer, PEI installer or facility owner, plan to stop by OEC Fluid Handling Booth #5221. Phone 1-800-500-9311 for more information, or visit http://www.oecfh.com/DEF-Pumps.htm.
About OEC Fluid Handling, Inc.
OEC Fluid Handling is a division of Oilmen's Equipment Corp (OEC), which celebrates 60+ years in the transportation and equipment industries. OECFH began supplying process liquid handling equipment to the liquid handling industry in 1982. Its customer support team has established a reputation for providing timely and accurate information concerning quotes, application assistance, technical support, and delivery data. If a liquid process requires pumping, storing, mixing, or metering... OEC Fluid Handling has the equipment to meet the need. Oilmen's Truck Tanks, another division of OEC and a leading provider of equipment used for the delivery of DEF (Diesel Exhaust Fluid), built the Nation's first weights and measures approved tank truck for hauling DEF in 2009. Because the purity of the DEF product is critical for the operation of today's high tech diesel engines, OEC began offering bulk storage tanks that maintain DEF quality standards, as well as filters and pumping equipment for shipping nationally.