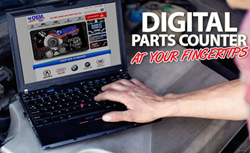 Our goal is to provide our customers with the same access to OEM parts that certified mechanics have at franchised dealerships.
Dallas / Fort Worth, TX (PRWEB) June 24, 2014
OEM Auto Parts Plus, LLC (OEMAPP) launched what is designed to be the most robust and dynamic Original Equipment Manufacturer (OEM) auto parts website ever in the automotive industry (http://www.oemautopartsplus.com). The OEMAPP site offers 39 brands of OEM automobile parts totaling more than 2,000,000 parts covering over 157,000,000 vehicle and parts applications. OEMAPP's goal is to provide the best online parts solution for customers that prefer genuine OEM auto parts.
OEMAPP customers can shop for OEM auto parts online by part type or by brand. OEMAPP is designed to give customers access to every part sold in the United States that is available to franchised dealers through their factory parts supply system from 1984 to present. If a dealer can get it now, so can the customer. This single source solution was designed specifically for the Do-It-Yourself (DIY) auto mechanic and for shop owners that prefer to take the very best care of their patrons' vehicles by using online OEM parts.
OEMAPP offers a very unique business model. Only legitimate franchised dealerships have the rights and privileges to sell authentic OEM parts. OEMAPP has put together an affiliation of highly respected dealerships in the U.S. to offer OEM parts through the OEMAPP site directly to the customer. All OEM parts are sold by the participating dealership that represents that specific brand. All parts come with a full manufacturer warranty and exemplary customer service from the participating dealers.
"I have spent my entire career in Customer Service, and I understand what customers' want," Cliff Gardner said. Cliff is the Founder/CEO of OEMAPP. "Customers want convenience, selection and service. Our goal is to provide our customers with the same access to OEM parts that certified mechanics have at franchised dealerships. We want to bring this same level of access directly to our customers' homes and shops."
"This access and ease of ordering is now at our customers' fingertips. It truly cannot get any easier. We are offering an electronic parts counter for those that truly understand the value and quality difference between using Original Equipment Manufacturer (OEM) auto parts versus those that are willing to settle for inexpensive aftermarket products. You will never hear us disparage any of the aftermarket parts. We prefer to let product fit and performance settle that debate."
OEM Auto Parts Plus features OEM auto parts from the following automotive industry brands: Acura, Audi, BMW, Buick, Cadillac, Chevrolet, Chrysler, Dodge, Fiat, Ford, GMC, Honda, Hummer, Hyundai, Infiniti, Jaguar, Jeep, Kia, Land Rover, Lexus, Lincoln, Mazda, Mercedes-Benz, Mercury, Mini, Mitsubishi, Nissan, Oldsmobile, Plymouth, Pontiac, Porsche, RAM, Saturn, Scion, Smart, Subaru, Toyota, Volkswagen and Volvo.
OEMAPP has a strategic alliance with UPS to be their exclusive shipping company. "UPS did not offer us an account. They offered us a total business solution that will ensure that our customers receive exemplary service all the way through to the final delivery of their parts," Cliff Gardner indicated.