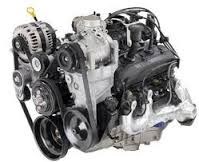 The Chevy brand has been featured on our website in various builds and is now offered as a more complete inventory in the GM family for a reduced sticker price program
Sacramento, California (PRWEB) November 13, 2013
Chevy engines built by General Motors are known in most parts of the world for varying levels of horsepower and overall performance. Locating a replacement engine from a local dealer can be a frustrating process for a motor vehicle owner. The Got Engines company has now added OEM Chevy engines in used condition for a near wholesale price structure.
Pricing is now in effect for these engines to provide a trusted resource for purchasing a second hand engine without defects online. The OEM units that are provided are direct swap outs that are selected through automotive suppliers in the U.S. Many of the most used engine families over the past 30 years are featured in the inventory listed on the GotEngines.com website.
"The Chevy brand has been featured on our website in various builds and is now offered as a more complete inventory in the GM family for a reduced sticker price program," said source from the GotEngines.com company.
The Vortec builds that are featured in the Chevrolet vehicles produced in the past two decades have remained popular as second hand units for used vehicles. Most trucks and SUVs feature multiple variations of the Vortec engine family. The builds that are now added as OEM preowned units online include the complete Vortec inventory.
"We've added the Vortec, Iron Duke, Ecotec and additional brands on our website for engine buyers to review when trying hard to find a reputable company providing authentic engines in used condition," the source included.
The GotEngines.com company has made modifications to its inventory as well as marketing this year. The various engine brands that are viewable in the company inventory are made possible by the updates made to the research tools that are in place online.
The quotes section inside the online tools is now responsible for price distribution of company engines without having to call customer service at 1-866-320-1065. Any engine inside the company warehouse can now be quoted in price in this manner.
About GotEngines.com
The GotEngines.com company retails engines ready for replacement in used vehicles for a discounted national price structure. This company supplies some of the highest quality engine builds that are found through a secondary market source. The company website continues to remain one of the popular ways to research pricing and additional engine details. The GotEngines.com company staff contribute to the updates completed each day to the inventory of motors for sale. The American and imported engine brands that are marketed by this company are purchased through sources in the auto industry.