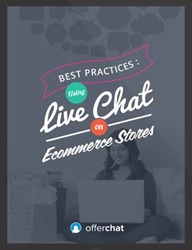 (PRWEB) August 01, 2013
Offerchat.com, the premium live chat for eCommerce businesses, is ready to serve its first ever Ebook on live chat best practices made available specifically for eCommerce stores.
The almost-customary use of live chat on websites makes eCommerce businesses struggle in the dark for strategies and effective practices that will enable them to effectively use live chat to improve customer support and boost sales conversions.
The soon-to-be-released Ebook sets out to educate eCommerce business owners on how to use live chat in gaining ground over the online market about good tender loving customer care. Offerchat.com offers Ebook entitled Best Practices: Using Live Chat on Ecommerce Stores. The Ebook highlights the following live chat practices:
1. Live chat
2. Live chat outsourcing
3. Live chat features to improve customer satisfaction
4. Chat etiquette – minding manners on chat
5. Proper communication styles (grammar and language)
Offerchat, with its customer first policy, up the ante in providing eCommerce businesses the ultimate resource guide loaded with simple, readable, applicable and information-filled Ebooks, as opposed to 50-page long whitepapers.
Ecommerce is slowly approaching live chat generation using chat support to increase the profit margin while propelling customer loyalty and an endless cycle of sales. Offerchat offers the market edge of having a live chat for website free of charge and minus the subscription-based obligation.
To learn more about the live chat for eCommerce, visit http://www.offerchat.com.
About
Offerchat is a free premium live chat for websites specifically designed to help online businesses increase their conversions and sales. It is easy to add chat widget with full features that's 100% free. Offerchat is brewed to perfection at Click Labs, Inc. a company based in Cebu City, Philippines. The company specializes in driving search marketing and social media traffic, social web app development and conversion optimization. Each product or service specifically helps small/medium website owners increase online visibility and improve online sales.