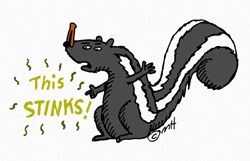 San Jose, CA (PRWEB) September 17, 2013
Memory foam typically rates among the most comfortable of all mattress types, yet some consumers still have a couple reservations about this relatively new material. One of the most often cited issues include that of off-gassing or chemical odors. Blog MemoryFoamMattress-Guide.org delves into the topic in their latest article, titled "Off Gassing and Memory Foam".
The blog explores the frequency of complaints, explains what off-gassing means, looks into whether or not the odors pose a danger, offers tips on how minimize odors, and then compares several leading brands of memory foam mattresses.
It is noted that about 15% of people overall report odor related to memory foam mattresses, though for 98%, it is not significant enough to warrant return of their bed. MFMG then explains that the off-gassing term refers primarily to the break down of VOCs, or volatile organic compounds. While these compounds have a vast number of sources, including organic plants, animal, humans, and manmade sources, there are a few that can have concerning side effects.
The article considers five of the worst offenders, including PBDEs and formaldehyde, explaining that while many have been voluntarily phased out by US and EU manufacturers, that some may still be in use in various forms and in other regions. MFMG suggests one independent certifying body, CertiPUR, as a resource for consumers which tests voluntarily submitted polyurethane foams for VOC emissions and hazardous chemicals associated with off-gassing hazards. Memory foam brands with this certification have been found to have very low VOC emissions. Other tips for minimizing risk or odor include selecting lower-density foams and allowing the mattress ample time to air out free from plastic packaging.
To illustrate differences across brands, MFMG compares 10 leading brands of memory foam on odor complaints based on owner reviews. A detailed comparison table lists memory foam type, density, percentage of reviews mentioning bad or significant odor, overall satisfaction, density, and whether or not the brand is CertiPur certified. Lines compares include (alphabetically): Amerisleep, BedInABox, BodiPedic, Novaform, Sealy Optimum, Serta iComfort, Simmons Curv and Comfortpedic, Sleep Science and Tempurpedic.
The article closes comparing the findings of the review analysis, with Amerisleep's plant-based memory foam showing the lowest rate of complaints, followed closely by iComfort and BedInABox. While acknowledging that odor can be a significant downside for some shoppers, Memory Foam Mattress Guide points out that several manufacturers have taken steps to address complaints and highlights the considerable differences between brands. The article recommends consumers seeking the benefits of memory foam without potential chemical or odor concerns check information from third-party sources like certifying agencies and owner reviews to find suitable options.
MemoryFoamMattress-Guide.org offers detailed resources, geared towards people looking to buy or research a new bed. A fresh and easy-to-navigate blog format presents articles organized by topic and date, in addition to offering social tools and subscription feeds. From buying guides to brand information and news, readers can find unbiased information designed to create knowledgeable buyers.