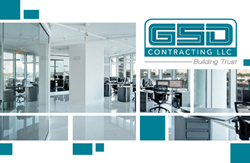 Fort Lauderdale, Florida (PRWEB) February 27, 2015
GSD Contracting LLC, an experienced South Florida-based commercial contractor, is pleased to announce the completion of the DaskLux Executive Office Suites in downtown Miami for coworking pioneer, MiamiShared.
Located in a modern high-rise at 900 Biscayne Bay Blvd across from the American Airlines Arena and overlooking Biscayne Bay, the DaskLux Executive Office Suites covering the entire 7th floor join the 8,000 sq. ft. MiamiShared has already opened on the 5th floor as coworking space for entrepreneurs in tech, media and design. These 20 offices were designed specifically to appeal to executive-level entrepreneurs who roam the globe and need occasional office space that will impress their clients and business associates when in Miami.
Architect on the project was Perez & Associates of Fort Lauderdale, with interior design by Rick Esposito Design of Dania Beach.
The DaskLux Executive Office Suites reveal their luxury appointments from the minute you step off the elevator and into a welcoming lobby area featuring contemporary furniture and dramatic artwork. The interior features white glass tile floors and glass walls, some with the ability to transition from clear to opaque with the touch of a switch. A sophisticated mix of natural old country woods and 21st century metals and native Mexican hardwood doors and volume ceilings have been employed.
Off the lobby is a large entertainment area where executives can host up to 50 guests with catering services. And a large conference room with 70" LCD TV for video conferencing seats about 14 comfortably.
The executive office suites themselves look out onto the main floor and allow the option to draw the shades for privacy, have rich wooden floors and modern Knoll office furniture. Several suites are expandable to make super-suites able to accommodate 10 or more employees.
Further amenities include:

Virtual receptionist at entrance, with dedicated receptionist on site
24/7 office access, security-enabled FOB system, security camera system
High-speed 100MB Internet and secured WIFI connection throughout the office
Full VOIP phone access, each office including one dedicated phone line
Two available Fax / Copy / Printer work stations
Fully stocked modern kitchen (no vending machines) with Subzero fridges, integrated coffee machines, a wine cooler and ample space for catering services.
For the convenience of busy executives, all services are freely available with one monthly membership. DaskLux takes care of all the details involved in maintaining a professional office for your business.
GSD Contracting acted as lead contractor on this luxury office build out, delivering a high standard of construction and finishes. It's one more successfully completed project to add their growing list of satisfied clients and portfolio of office construction and renovation around South Florida.
About GSD Contracting LLC
Established in 1980, GSD Contracting is a leading South Florida commercial contractor with experience in a broad range of industries: retail, office, banks, hospitality, medical, education, and marine, to name a few. With a reputation for honesty, transparency and professionalism, much of the company's growth has been the result of repeat clients. Visit gsdcontracting.com or call 954-961-4222 to learn more about us.
About MiamiShared
A coworking pioneer since 2009, MiamiShared.com brings a new type of shared work environment to the individual entrepreneur and small business company, and now through its DaskLux luxury brand, the international executive. Clients can expect all the services and amenities of a Class A office at a great location, plus a cultural environment made for networking. Visit dasklux.com or call 305-400-0537.
About Perez and Associates, Architects
Established in 1984 with the purpose of providing the South Florida community with Architectural and Planning services. During the past 30 years, we have utilized our expertise in the design of many facilities such as banks, office buildings, retail and office interiors with an emphasis on making our clients' workplaces more cohesive, productive and inspiring. Please call us at 954-567-2062 to see how you might benefit from our services.
About Rick Esposito Design
Rick Esposito designs personalized space suited to each client's special needs for both residential and commercial projects. Scope of services can vary from the initial design consultation to a total design plan from start to finish. We also have many years of experience with restorations, renovations, and home expansions. Our projects have been published in leading shelter and interior design publications. Rick Esposito Design is located in Dania Beach, Florida. Contact rickesposito(at)mac(dot)com or call 305-335-9825.