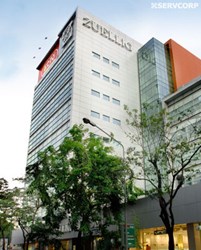 Servcorp is launching its Virtual Office Rental Special for 2 Months at 50% off the regular price in August.
(PRWEB) August 01, 2013
Servcorp is launching its Virtual Office Rental Special for 2 months at 50% off the regular price in August. Servcorp is the premier company for Virtual Office Rentals. Servcorp's excellent service and reasonable rates are unmatched among its competitors. Its international reputation is widely recognized and is synonymous with all-around professionalism and high-quality service.
This is the time for businesses to take advantage of this special promotion and get an edge by reaping the rewards of renting a Virtual Office at rock bottom rates. Customers will be impressed with the prestige that the address services offer and will give any business that much needed image associated with location and success. Virtual Offices are the future for upstarts and any business that needs or wants an economical way to do business without overspending.
Businesses will have access to mail services including postal, voice, forwarding and receiving services. Servcorp offers a full array of advanced business services with exclusive features for the benefit of its business clients. Business-based abroad, in another city in Thailand, or small home-based businesses can take advantage of Servcorp's sophisticated technological office services and utilities. Businesses can leave all the headaches of equipment maintenance, office supplies, and finding an optimum location for Servcorp to deal with, while it puts its energy and resources into growing its business. Businesses can get a Virtual Office for 2 months at half off the regular rate through Servcorp.
Servcorp's Virtual Office amenities, services, and facilities include a virtual receptionist with a dedicated telephone number and voicemail to email message delivery system along with fax to email services. The system is interactive and answering and transferring calls is done by an in-house multilingual personal assistant who answers the phone in the company name during business hours. Along with this is the use of the international boardrooms with access to broadband internet and video-conferencing facilities. In addition, a virtual office address is available with a downtown commercial center business address for use on letterheads, business cards and postal mail.
Servcorp also has Onefone service which handles an international communications network for clients along with fax-to-email service. For the convenience of Servcorp's clients and their customers, there is also online meeting hosting and video conferencing services with a convenient online booking system. Servcorp is proud to be a leader in the Virtual Office industry, and its special promotion is the perfect way for any business to start that path towards success.
Servcorp is the ultimate go-to company and provider of Virtual Office services in the world. It is a dedicated player in providing the best options for its clients worldwide. Servcorps knows that its clients need to focus on increasing clientele and not in dealing with endless paperwork and other hassles of getting a new office. Contracts are flexible and a business can be up and running within a matter of hours, if not minutes, once all the preliminary transactions are completed.
Servcorp understands that businesses don't have time to waste and that clients want the least red tape as possible to get their business started. Contracts allow Virtual Offices to be upgraded to Service Offices if this is something that clients want to do. Servcorp's all-inclusive package allows access to day offices, board and meeting rooms as well as mail and courier management services. The 2 months at 50% off special exemplifies Servcorp's quality service and willingness to go the extra mile in providing the best for new clients. Businesses can take advantage of this excellent opportunity to lease a professionally serviced Virtual Office for 2 months at 50% off the regular price by contacting Servcorp.