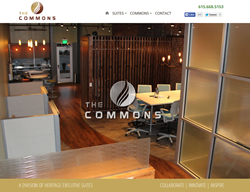 Very sophisticated offices! Great addition to the Murfreesboro area. This space is top notch! -Jesslyn Shewmon
Murfreesboro, Tenn. (PRWEB) March 30, 2015
In a recent grand opening event, Hearthstone Properties unveiled a unique new office space concept for the Murfreesboro business community. Unlike traditional office space, the development at Heritage Park is designed to address two under-served markets in the community.
Heritage Executive Suites is a contemporary office concept designed for small business owners in need of a professional work space but do not want the burden of a traditional office space. Business owners can lease a fully-furnished, secure private office with shared access to a state of the art conference room, business center with copy, print and fax functionality as well as utilize a fully stocked comfortable break area. One of the main benefits to the Suites is the affordable month-to-month lease terms.
In addition to the Suites, Hearthstone had added The Commons, a truly open work environment for independent professionals looking for a step up from the local coffee shop or bakery. "The Commons" office space in Murfreesboro features a contemporary look and feel with couches, work tables, small private nooks, as well as private meeting rooms that can be reserved for use. The open office space concept encourages collaboration between tenants and fosters creative and innovative business dialog between independent professionals.
This is a first-of-a-kind for Murfreesboro and Hearthstone owner Scott Graby believes the concept can be developed further to better serve a growing niche market of young, independent professionals.
To learn more about Heritage Executive Suites and The Commons, visit http://www.heritageexecutivesuites.com