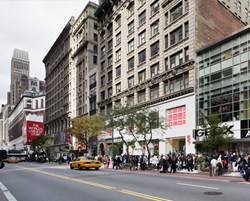 For Jay Suites, the 3 L's are Location, Light, and Layout. With a superior window line and heavy foot traffic, our building has an edge over its neighbors.
New York, NY (PRWEB) December 09, 2013
Executive suites operator Jay Suites is bringing its modern décor and competitive rates to more Manhattanites than ever before. The firm just announced that it has secured a lease for its sixth Manhattan location on the 7th floor of 31 West 34th street, an 11-story building located near the north-west corner of 34th street and posh Fifth Avenue. The 300,000SF class A office space building is situated across the street from the legendary Empire State Building and boasts Japanese fashion house Uniqlo and Spanish apparel chain Zara as its retail tenants.
Jay Suites management will be renovating and building out the space into its famed luxury office spaces, which will be completed in March 2014, with pre-leasing to begin on January 1. When completed, the 28,000SF center will house 89 fully-furnished office suites ranging in size from a single individual suites to 12-person team rooms, as well as three high-tech meeting rooms, a designer reception area, a break room with a fully-stocked pantry, and a tenant hotspot. The floor plan also calls for an exclusive, 2,000SF outdoor patio overlooking the Manhattan skyline and the Empire State Building, suitable for private corporate events.
Although Jay Suites' agreement with the building's owners spans 15 years, the company will be focused on providing office space solutions for substantially shorter terms (generally, between six months and two years). In addition, plans are offered with all-inclusive prices, which cover everything from furniture, utilities like phone and Internet, services such as reception and mail handling, and usage of common areas, namely the conference rooms and lounge spaces. Given the area's high accessibility – with nearby Penn Station, NJ Transit, Port Authority, and numerous subways and buses just blocks away – prospective tenants could originate anywhere in the tri-state area. With numerous services, shopping, and tourist attractions, the center would accord a premium location for any business, in the heart of Manhattan. Virtual offices and guest meeting room rentals will be available, as well.
Juda and Jack Srour, Jay Suites President and COO, respectively, cite the neighborhood and location as top selling points. Explaining the company's screening process for new center locations, Jack Srour said: "Location, Location, Location might be the real estate adage. But in the Jay Suites world, the 3 L's are Location, Light, and Layout. With a superior window line and heavy foot traffic, [31 West 34th Street] has an edge over other buildings in the area." Other criteria include a competitive presence. "If Regus has a center nearby, so should Jay Suites," he adds.
Where will wee see Jay Suites next? Juda Srour related that the firm is currently scouting spaces in the Columbus Circle and Union Square neighborhoods, while also considering heading other major cities such as San Francisco and Chicago. The latter would be Jay Suites' first office space center outside Manhattan – a true milestone of its own.
About Jay Suites
Jay Suites is a leading provider of flexible, fully-furnished office space suites in New York City. The firm specializes in full-service executive suite spaces with all-inclusive pricing; their short and long-term solutions accommodate a variety of businesses across the spectrum, from lawyers and financial managers to entrepreneurs. Jay Suites' vision is to transform the business center industry by committing an unprecedented amount of attention to design, service and quality. Jay Suites also offers a variety of virtual office plans & meeting room and day office rentals on a per hour or day basis. For preleasing inquiries about the new space, please call (212) 569-9000 or visit http://www.jaysuites.com.