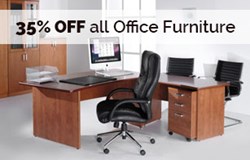 (PRWEB) February 04, 2014
WeCareOffice is now offering 35% off all office furniture to kick start 2014. As of January 2014, WeCareOffice is offering this amazing discount on over 1,000 different products to herald in the New Year. From office chairs to office tables, all products of this type are now available at trade prices direct to the public and are available for easy purchase through the online store.
WeCareOffice.co.uk is the UK's leading online supplier of home office and commercial office furniture at trade prices. With 1,000's of products, their range includes office chairs, office desks, office storage, executive furniture and ergonomic office supplies.
Finding cheap office furniture can be very difficult at times. Most websites such as Amazon and Ebay simply act as a middleman - between the consumer and the real supplier. This can inflate prices and prevent those in the market for new furniture for getting the best deals and most attractive prices. However, this doesn't have to be the case.
To find trade prices and affordable office furniture, you must go straight to the wholesaler. However, this option isn't always available to the general public, forcing them to pay higher prices than strictly necessary.
When speaking to the WeCareOffice regional sales coordinator it was revealed why this store is so popular in the UK "Most members of the public want high quality office equipment and furniture, but simply can't afford the prices they sell for once the retailers have added their mark-up. We are committed to offering the public trade prices for smaller purchases of one or two items, which in the past hasn't been available to them".
Trade Prices – 35% off office furniture 2014 offer!
Order now for wholesale prices and next day delivery on most items available in store or online.
This means incredible prices for all customers, with a wide range of products available as listed below:

Office Desks
Office Chairs
Office Bookcase
Ergonomic Office Chairs
Mobile Pedestals
Stacking Chairs
Reception Chairs
Operator Chairs
About We Care Office:
With an online product range of over 1000 products, We Care Office is the proud supplier to many London businesses, and is now able to offer these unbeatable trade prices to online customers. Most products are next day delivery and are available for shipping to England, Scotland and Wales.
How can such low prices be offered?
Being based online means cost savings, which are passed straight onto the customers, meaning the prices are often unbeatable by some of the larger high-street chains. Much of the stock is manufactured here in the UK, therefore giving the products a superior quality to many imported office products.
Because We Care Office are one of the UK's leading online suppliers of office furniture, it also means there is a huge cost saving, as all the products and materials are bought in bulk.
For all office furniture enquiries, visit the online store today – http://www.wecareoffice.com