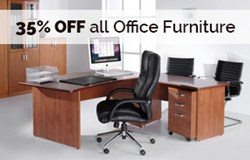 (PRWEB) February 02, 2014
WeCareOffice.com features over 1,000 products in its catalog; Office chairs, desks, and storage, plus ergonomic office supplies and executive furniture are now available from WeCareOffice.com at lower prices than ever before.
Affordable office furniture is often hard to find. As the leading online supplier of wholesale office furniture in the UK, We Care Office establishes a direct connection between seller and customer. This is in stark contrast to middleman sites such as eBay and Amazon.
Now, customers can find affordable office furniture at trade prices, direct from the wholesaler with ease. Buyers can now order directly from the company's e-commerce website, at 35% off retailers' prices. Orders can be placed at any time with next day delivery for most of the wholesaler's products.
We Care Office carries a wide range of products, including office desks, office chairs, and office bookcases. Their range of ergonomic office chairs promote normal posture and help users recover from back pain. The company also sells stacking, reception, and operator chairs as well, plus mobile pedestals.
Online, simple navigation, easy ordering, and information supplied by a blog make the process convenient for the customer. The company's online presence also allows for cost savings. Prices often cannot be matched by larger chain stores and brands. Also, most of its stock is manufactured in the UK, adding both quality and affordability in comparison to imported items.
The rise in popularity of this online retailer of office furniture and equipment has been down to a number of factors. These include low and trade prices that are available to the general public, an increased focus on delivering outstanding customer support, and a range of products that is second to none.
As higher quality products are demanded by consumers, those looking for desks, chairs and bookcases, have found the required standard of goods are available at this popular office retailer. This has helped to increase the company's market share as well as its profile amongst UK consumers in the market for both home office equipment and commercial office supplies.
Since the launch of the website and its increase visibility, the number of home based customers has grown considerably. This is mainly attributed to the low prices on offer, fast delivery times, and large number of items stocked by the store. As the website has been improved to enhance ease of use and make it simpler to navigate, the number of online customers is only expected to grow.
Visit the http://www.wecareoffice.com online store to enquire about or purchase affordable and ergonomic office furniture.
Order now for wholesale prices and next day delivery on most items.
That means incredible prices for all customers, with a wide range of products as listed below:
Office Desks
Office Chairs
Office Bookcase
Ergonomic Office Chairs
Mobile Pedestals
Stacking Chairs
Reception Chairs
Operator Chairs
About We Care Office
We Care Office is a wholesale office furniture supplier for many London businesses and others throughout the UK. Over 1,000 products are available via the company's online store at unbeatable trade prices. Business and home customers in England, Scotland, and Wales receive next day delivery on most products.