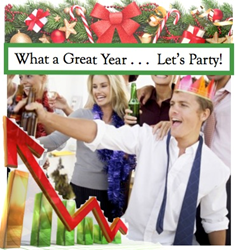 Just because the economy is good and you had a good year does not mean you can loose sight of proper behavior at the big office holiday party.
ATLANTA (PRWEB) December 10, 2014
The Good Times are back – so be careful at the holiday party. The economy is looking good and business is booming which could mean trouble at this year's company holiday party. According to Dr. Deena Pargman, Ph.D., a national leading authority on workplace communication and harassment prevention and response, the resurgence of good times worth celebrating means an increased risk of sexual harassment or other inappropriate workplace behavior.
The U.S. economy expanded more than forecasted in the third quarter of 2014. Gross domestic product grew in the second and third quarters marking the strongest back-to-back readings since 2003. Businesses are hiring and unemployment is steady and low. There is reason to celebrate this holiday season for the first time in a long time. Party-planners and event venues acknowledge increased spending on company holiday parties this year.
According to Dr. Pargman, "many of my clients are feeling good about the state of their businesses and are looking forward to celebrating the year's success. I want them to remember not to be too exuberant in their celebration at the holiday party." The Great Recession made it easier to keep the holiday parties on the tamer side as there was not much to celebrate. However, with a good solid year behind them, there is a bit of pent up partying ready to bust out for many companies.
To help clients avoid a nasty post-holiday hangover, Dr. Pargman offers the following "Good Times are Back Holiday Party Tips":
(1) Include a link to the company's Anti-Harassment policy in the email announcements about the party. Include a list of expectations for behavior including dress code and a firmly stated request not to post and tag pictures of people on social media without their prior permission.
(2) Consider limiting alcohol consumption at the holiday party. Hire professional bar tenders and empower them to cut off anyone who has had too much, or better yet, give each attendee two drink tickets.
(3) Schedule and announce group Anti-Harassment and Sensitivity Training with managers and executives in the middle of the holiday season so it is a topic of conversation and is on everyone's mind going into the party season.
(4) Make it clear to executives and managers that they should set a tone of responsible celebrating within the bounds of company policies. Junior employees will look to their superiors to determine what is acceptable behavior or even what is expected behavior. Leadership should set an example of appropriate workplace celebration.
(5) Finally, if you are the boss, a manager, owner, or executive, do not leave early thinking so as to avoid the wild behavior that may occur in the later hours. You are the host of the party and have a responsibility to maintain an appropriate environment for all.
Celebrating the end of a good year with a holiday party that kicks it up a notch over prior year's subdued parties can be a great way to connect with your co-workers and recognize a year of hard work and accomplishment. However, the go-to person who works with those who slip up, cautions that "just because the good times are back does not mean you can loose sight of proper office behavior at the big party" says Deena Pargman.
DB Pargman Consulting LLC specializes on workplace communication and behavior excellence and offers a variety of products and trainings designed to help employees and management be their "Best Professional Self." As the nation's leading provider of One-on-One Executive and Sensitivity Training, DB Pargman Consulting provides prompt and remedial responses for companies facing harassment, diversity, sensitivity and communication related complaints. To help prevent complaints and increase organizational productivity, DB Pargman provides best in class preventative Group Anti-Harassment and Communication training programs. Deena Pargman is a certified Birkman Method consultant and a GSA Contract Holder. Headquartered in Atlanta, DB Pargman Consulting LLC serves a national client base of medium to large size companies, educational institutions, and government agencies.