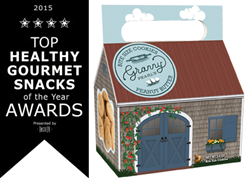 "Granny would be thrilled that the cookies she loved to bake for family and friends are the Official Gourmet Snack for the 7th Annual Taste Awards." ~John Shackelford, founder of Granny Pearl's Kitchen
St. Simons Island, GA (PRWEB) December 17, 2015
Granny Pearl's Kitchen peanut butter cookies were named the official healthy gourmet snack for the 7th Annual Taste Awards and will be included in the VIP gift bags at the red carpet ceremony. The Taste Awards celebration on February 11, 2016 will feature a star-studded lineup of food and fashion TV celebrities, including winners, nominees, and presenters. Portions of the program are filmed for broadcast on local television stations nationally, reaching millions of households.
Recipient of the 2015 Top Healthy Gourmet Snacks of the Year Award, Granny Pearl's Kitchen peanut butter cookies boast a more balanced ratios of carbohydrates to protein than most cookies—making these delicious cookies a smart treat. Granny Pearl's Kitchen cookies join the bite size dessert trend fueled by consumers focused on healthier lifestyles. Granny's portion-controlled delicacies allow consumers to indulge their taste buds with a gourmet cookie using natural and locally-sourced ingredients.
John Shackelford, founder of Granny Pearl's Kitchen, says, "We are excited that Taste Award finalists and winners get to sample the big flavor of our bite size peanut butter cookies. Granny would be thrilled that her cookies are the Official Gourmet Snack for the 7th Annual Taste Awards." Shackelford went on to say that he launched the company to honor his grandmother's memory and the cookies she loved to bake for family and friends.
In addition to the award-winning peanut butter cookie, Granny Pearl's Kitchen bite size cookies are available in five other flavors: sugardoodle, chocolate chip, pecan chocolate chip, pecan sandies, and lemon tea cookies.
Granny Pearl's Kitchen was featured in the "What's New, What's Hot" showcase at the 2015 Summer Fancy Food Show hosted by the Specialty Food Association—the largest specialty food trade event in North America.
The Taste Awards celebrate the year's best achievements in food, fashion, home and lifestyle programs on television, in film, online, on radio, and at live interactive events. Finalists for the awards are selected by the Academy of Media Tastemakers — a diverse and respected association of food & wine editors, writers and bloggers, chefs, fashion journalists, television producers and stations, online video platforms, mobile device providers, retail and technology enterprises, previous award recipients, and others. There is also a set of Viewer's Choice Awards, selected online by the general public.
While the Pocket Tidbits packs will be included in the Taste Awards VIP gift bags, Granny Pearl's Kitchen also distributes cookies in boxes designed to look like classic southern homes and inspired by Shackelford's work as an architect. The peanut butter cookies are housed in a classic Charleston Carriage House. The packaging for Granny's sugardoodle cookie is a rendering of Granny Pearl's own home and was awarded an ADDY in packaging design.
Consumers may purchase cookies directly from http://www.grannypearlskitchen.com or check out the expanding list of retail stores stocking these gourmet cookies. Wholesale orders are available to specialty and retails stores located throughout the United States.
###
About Granny Pearl's Kitchen: Founder John P. Shackelford, Jr is an architect with a creative vision for classic spaces and a flair for launching and growing new businesses. His thriving architectural design business is rooted by a commitment to tradition and the integration of contemporary design. These foundational philosophies are the recipe for success with all of Shackelford's entrepreneurial ventures, including Granny Pearl's Kitchen. Granny Pearl's Kitchen is a member of the Georgia Grown network and Specialty Food Association. http://www.grannypearlskitchen.com
High resolution photos and interviews available. Contact Traci DeForge at 912-223-9525 or bake(at)grannypearlskitchen.com.