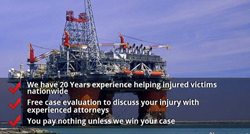 Our intuitive knowledge of which law is applicable for your particular injury or loss is an essential part of the knowledge and experience that we bring to providing you with the level of protecting that you need
Houston, TX (PRWEB) March 27, 2014
Danziger & De Llano, LLP, a well known law firm that represents offshore accident victims, recently announced its decision to add a two new pages to its website. The website's latest pages contain extensive details regarding Danziger & De Llano, LLP's maritime law knowledge, its legal services, and its attorneys.
The first page, which can be found at http://www.offshoreaccidentlawfirm.com/maritime-lawyer, discusses maritime and admiralty law in-depth. According to the page, maritime laws include acts such as the Jones Act, Longshore and Harborworker's Compensation Act, and Death on the High Seas Act, all of which were created specifically to provide workers with the protection that they need. The page also explains the types of compensation that each act provides for workers.
In a similar fashion, the second page, http://www.offshoreaccidentlawfirm.com/offshore-injury-lawyers, explains the law firm's views on offshore accidents and the steps that it takes to help its clients. Danziger & De Llano, LLP acknowledges that the range of accidents that can take place on a ship is almost limitless, especially because deck workers can fall, explosions can take place, and rough seas can sweep passengers over railings. Working conditions can be very dangerous, so maritime and admiralty laws are designed to protect any victims injured offshore. These laws also apply in the case of accidental deaths.
"There are a number of different maritime laws that have been written for specific types of injuries and events," noted an article available on the page. "Our intuitive knowledge of which law is applicable for your particular injury or loss is an essential part of the knowledge and experience that we bring to providing you with the level of protecting that you need."
For over 20 years, the lawyers of Danziger & De Llano, LLP have helped injured victims nationwide. The law firm is dedicated to offering its clients knowledgeable legal assistance in all maritime law cases. The law firm's staff has earned a solid reputation in the law industry because they educate their clients about their legal rights and always aim to protect them in court.
Danziger & De Llano, LLP offers 100 percent confidential, no cost and no-obligation initial consultations to clients. Individuals interested in learning more about Danziger & De Llano, LLP can visit the offshore accident law firm website for additional information.
About Danziger & De Llano, LLP:
Danziger & De Llano, LLP is a law firm dedicated to helping businesses, individuals, and their families by providing them with superior client service and personal attention. When Danziger & De Llano, LLP accepts a case, it assigns a team of professionals—including attorneys, legal assistants and support staff—to guide the client through the legal process. Danziger & De Llano, LLP is devoted to ensuring that each client obtains full and just compensation for all of their injuries. The firm has been featured in the Wall Street Journal, New York Times, and CNN. For more information, please visit http://www.offshoreaccidentlawfirm.com